Tag archives for poetry publisher

"Whiskey Creek Press is a royalty-paying traditional publisher of fiction and non-fiction by outstanding, award-winning authors. We published our first titles in March, 2003 and we have grown to...
Adventure Book Publishers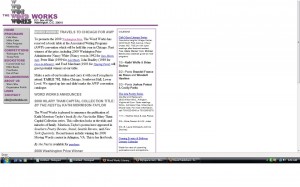 " Under the art direction of Paris Pacchione, the Word Works has published books of outstanding literary merit in graphically beautiful editions. Press runs for books are usually 500...
Book Publisher