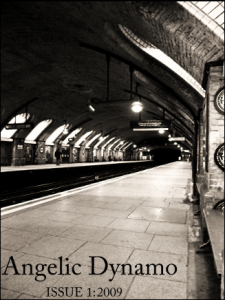 Magazine Name:
Angelic Dynamo
Website:

http://www.angelicdynamo.com/

Editor:
A.W. Freer & J. Clegg
Print Magazine?
Yes
Mailing Address:
Email:

angelic.dynamo@googlemail.com

Circulation:
Retail in UK & Mail-order worldwide
Submission Guidelines:

http://www.angelicdynamo.com/submit.php

Approximate Response Time
2-4 weeks
Publishes:
Bi-monthly
Year Founded:
2008
Online Submissions?
Yes
Information about your publication:
The magazine is composed of poems submitted, but there is a twist: ! the submitted poems are shortlisted by the editor if necessary, and then displayed on the website. Here, the reading public vote on the best poems for the month, and the winning poems are published in the magazine.
What type of submissions you are looking for:
We receive all genres and subjects. For a guide as to what is most successful, please view past issues here:

http://www.angelicdynamo.com/issues/

Information on Contests:
Annual print compilation collated from published poems.