Bartleby Snopes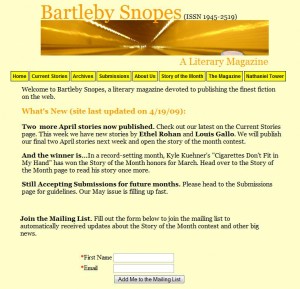 Magazine Name:
Bartleby Snopes
Website:

http://www.bartlebysnopes.com

Editor:
Nathaniel Tower
Mailing Address:
Email:

submissions@bartlebysnopes.com

Circulation:
500-1000
Submission Guidelines:

http://www.bartlebysnopes.com/submissions.htm

Approximate Response Time
1-2 weeks
Publishes:
weekly
Year Founded:
2008
Online Submissions?
Yes
Information about your publication:
Bartleby Snopes is an online

literary magazine

with several goals in mind. We want to publish the best new fiction we can find. We want to gi! ve the many writers that are out there an opportunity to publish their best work. We want to inspire you to create great works of fiction. We publish two stories per week and have a Story of the Month contest every month. We also publish a semi-annual magazine of our favorite stories.
What type of submissions you are looking for:
Fiction of 4000 words or less.