A Cafe in Space: The Anais Nin Literary Journal (DEFUNCT)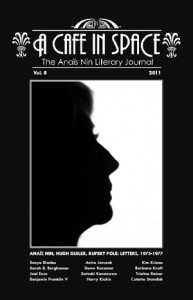 | | |
| --- | --- |
| Magazine Name: | A Cafe in Space: The Anais Nin Literary Journal (DEFUNCT) |
| Website: | |
| Twitter: | |
| Facebook: | |
| Editor: | Paul Herron |
| Print Magazine? | Yes |
| Mailing Address: | |
| Email: | skybluepress@skybluepress.com |
| Circulation: | |
| Submission Guidelines: | |
| Approximate Response Time | |
| Publishes: | Annually on Feb. 21 |
| Year Founded: | 2003 |
| Online Submissions? | Yes |
| Information about your publication: | A Cafe in Space is the only current publication dedicated to diarist/novelist Anais Nin, now in its ninth year. Essays about Nin and her contemporaries, such as Henry Miller, D.H. Lawrence, Antonin Artaud, and Lawrence Durrell, by today's top scholars, excerpts from Nin's unpublished diaries and correspondence; poetry, reviews, photos, visual art, and criticism fill the pages. A Cafe in Space is available in both print and digital form. |
| What type of submissions you are looking for: | Literary criticism on Anais Nin and her contemporaries/influences (Miller, Durrell, Lawrence, Artaud, Proust, Djuna Barnes, et al.); articles on 1930s Paris, surrealism, the New York Village scene, the beats, feminist theory, gender theory, etc.; we include a very limited number of Nin-esque short shorts, poetry, and visual art, vintage photographs of any of the above. We also seek reviewers for Nin-related publications in all media. Contact us at skybluepress@skybluepress.com. |
http://www.everywritersresource.com/literarymagazines/a-cafe-in-space-the-anais-nin-literary-journal-2/
Defunct
Magazine Name: A Cafe in Space: The Anais Nin Literary Journal (DEFUNCT)Website:Twitter:Facebook:Editor: Paul HerronPrint Magazine? YesMailing Address:Email: skybluepress@skybluepress.comCirculation:Submission Guidelines:Approximate Response TimePublishes: Annually on Feb. 21Year Founded: 2003Online Submissions? YesInformation about your publication: A Cafe in Space is the only current publication dedicated to diarist/novelist Anais Nin, now in its ninth year. Essays about Nin and her contemporaries,...
Every
Writer
votenewmusic@yahoo.com
Administrator
I am the editor/owner of EWR, a writer, a publisher, and a teacher.
Literary Magazines