A Trunk of Delirium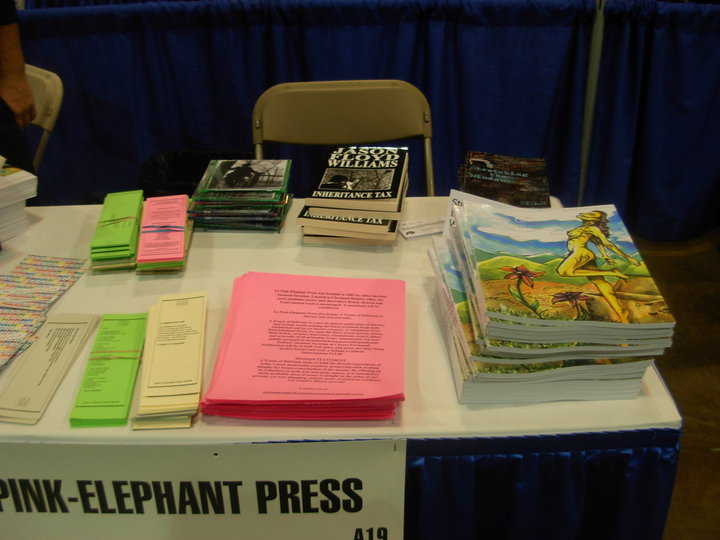 | | |
| --- | --- |
| Magazine Name: | A Trunk of Delirium |
| Twitter: | ? |
| Facebook: | Le Pink-Elephant |
| Website: | http://www.facebook.com/le.press.9 |
| Editors Name: | Suzanne Savickas and Cheryl Townsend |
| Print publication?: | Yes |
| Mailing Address:: | Le Pink-Elephant Press 4975 Comanche Trail Stow, Ohio 44224 |
| Email: | atrunkofdeliriumjournal@gmail.com |
| Circulation: | national distribution and available at AWP and by request |
| Submission Guidelines URL: | http://www.facebook.com/le.press.9 |
| Approx. Response Time?: | rolling submissions |
| How often do you publish?: | currently taking submissions for chabook contest |
| Year Founded?: | 2003 |
| Do you take online submissions?: | Yes |
| Information about your publication: | About the Press Le Pink Elephant Press was founded in 2003 in Kent, Ohio after the deconstruction of Hart's Compass. Le Pink Elephant Press' founder and editor in chief is Suzanne Savickas. The Press primarily publishes poetry and short-short fiction. Hybrid and Experimental work is encouraged. Translations will be considered. Le Pink-Elephant Press also houses A Trunk of Delirium (a literary and arts journal): Le Pink-Elephant Press is a press which publishes literary and artistic works seeking the finest available from both established and as yet known creators. Editors: Suzanne Savickas & Cheryl Townsend |
| What type of submissions are you looking for?: | Le Pink-Elephant Press also houses A Trunk of Delirium (a literary and arts journal): A Trunk of Delirium is a new semi-annual publication of literary and artistic works seeking the finest available from both established and as yet known creators. A subsidiary of Le? Pink Elephant Press, we open the lid to accept poetry, prose, flash fiction, reviews, interviews, translations, essays, plays, and artworks of all printable forms. Submissions are now giddily accepted at atrunkofdelirium@yahoo.com. Editors: Suzanne Savickas & Cheryl Townsend Publication will be in both web space and print, the later being perfect bound and truly a delight to behold. Subscriptions $10.00 MISSION STATEMENT Le Pink-Elephant Press and A Trunk of Delirium seeks to hold the diverse expressions of today?s most memorable creators, preserving such evoking delights for future consumption of the masses. By offering up its collectives in both web and print spaces, it is intended to make available more avenues to delight in the pulse of our present, yet ever changing, artistic scene of delirious exudence. Let creative liberty prevail! |
| Tell us about upcoming events or contests: | Delirium Chapbook Contest Le Pink-Elephant Press is currently open to the first Delirium Chapbook Poetry Contest. To be considered, please send a hard copy of original poetry, between 25-48 pages in length to Le Pink-Elephant Press, 4975 Comanche Trail, Stow, Ohio 44224. Include one copy of the poems without a title and author and page, and one copy of the manuscript with the title and author page. Manuscripts should be separated with clips. Poems should be paginated, with one poem per page. For each submission, we require a reading fee of $10.00. Please make checks payable to Le Pink-Elephant Press. Once read, manuscripts will be recycled. We do NOT read simultaneous submissions. Delirium Chapbook Poetry Contest searches for the innovative works from both new and experienced authors, who use words to dance across the page. After all, ?the only war that matters is the war against the imagination.? Submission deadline is currently rolling. Winner will receive 20 copies of the chapbook. |
http://www.everywritersresource.com/literarymagazines/a-trunk-of-delirium/
Contests
Fiction
literary magazine
Literary magazine in Print
New and Interesting
Non-fiction
Online Submissions
Poetry
Print magazine/Online Submissions
Magazine Name: A Trunk of DeliriumTwitter: ?Facebook: Le Pink-ElephantWebsite: http://www.facebook.com/le.press.9Editors Name: Suzanne Savickas and Cheryl TownsendPrint publication?: YesMailing Address:: Le Pink-Elephant Press 4975 Comanche Trail Stow, Ohio 44224Email: atrunkofdeliriumjournal@gmail.comCirculation: national distribution and available at AWP and by requestSubmission Guidelines URL: http://www.facebook.com/le.press.9Approx. Response Time?: rolling submissionsHow often do you publish?:...
Every
Writer
votenewmusic@yahoo.com
Administrator
I am the editor/owner of EWR, a writer, a publisher, and a teacher.
Literary Magazines