Bayou Magazine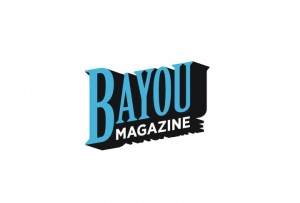 | | |
| --- | --- |
| Magazine Name: | Bayou Magazine |
| Website: | http://www.uno.edu/bayou |
| Twitter: | https://twitter.com/#!/BayouMagazine |
| Facebook: | https://www.facebook.com/pages/Bayou-Magazine/131139973631098 |
| Editor: | Melissa Remark and Carrie Chappel |
| Print Magazine? | Yes |
| Mailing Address: | Bayou Magazine Department of English University of New Orleans 2000 Lakeshore Drive New Orleans, LA 70148 |
| Email: | bayou@uno.edu |
| Circulation: | national |
| Submission Guidelines: | http://www.uno.edu/bayou/BayouHome/SubmissionGuidelines |
| Approximate Response Time | ? |
| Publishes: | biannual publication |
| Year Founded: | 2003 |
| Information about your publication: | Bayou Magazine is a biannual literary magazine with national circulation published by the Creative Writing Workshop at the University of New Orleans. Each issue contains short fiction, non-fiction and poetry from established, award-winning authors as well as emerging writers. In keeping with the aesthetics and goals of the Creative Writing Workshop, Bayou is especially interested in discovering and showcasing fresh literary voices. The journal awards yearly contests in both fiction and poetry. And in one issue every year, Bayou features the winning one-act play and short story from the annual Tennessee Williams/New Orleans Literary Festival Competitions. We are a member of the Council of Literary Magazines and Presses, and annually nominate several published works for the Pushcart Prize, O. Henry Award and Best American Essays. Supported by the University of New Orleans English Department and the UNO Foundation, Bayou is a non-profit journal for the arts. |
| What type of submissions you are looking for: | fiction, non-fiction and poetry |
| Information on Contests: | Literary Journal of the University of New Orleans FICTION AND POETRY EDITOR?S PRIZES CALL for Submissions October 1 ? December 31 JAMES KNUDSEN EDITOR?S PRIZE FOR FICTION WINNER: $500, publication and a year subscription. FINALISTS will be named on our website. 2011 Judge: Joseph Boyden Submissions must be original, previously unpublished work of fiction, no longer than 7500 words. Reading fee: $15, includes a one-year subscription to Bayou. You may enter more than one story, but each submission must arrive in a separate envelope with its own cover sheet and entry fee. We accept novel excerpts if the submission stands alone as a complete short story. KAY MURPHY PRIZE FOR POETRY WINNER: $500, publication and a year subscription. FINALISTS will be named on our website. Inaugural Judge: Kay Murphy Submissions must be original, previously unpublished poetry. Reading fee: $10, includes a one-year subscription to Bayou. You may enter up to three poems per entry. ALL ENTRIES: Please include a cover sheet with your name, address, phone number, email address, and the title of your submission. Do not include your name on the pages of the story. Any story with identifying material will be disqualified. We accept simultaneous submissions, but please indicate this on your cover sheet. You must notify us immediately if your work has been accepted elsewhere. All manuscripts should be in 12pt Times New Roman and double spaced with standard 1? margins. Send your submission, cover sheet and check made payable to UNO FOUNDATION to: Bayou Magazine Department of English University of New Orleans 2000 Lakeshore Dr. New Orleans, LA 70148 For more information about Bayou: http://cola.uno.edu/bayou/ |
http://www.everywritersresource.com/literarymagazines/bayou-magazine/
B
Contests
Fiction
literary magazine
Literary magazine in Print
New and Interesting
Online Submissions
Poetry
Print magazine/Online Submissions
University Press
Bayou Magazine,Fiction,literary magazine,Poetry
Magazine Name: Bayou Magazine Website: http://www.uno.edu/bayou Twitter: https://twitter.com/#!/BayouMagazine Facebook: https://www.facebook.com/pages/Bayou-Magazine/131139973631098 Editor: Melissa Remark and Carrie Chappel Print Magazine? Yes Mailing Address: Bayou Magazine Department of English University of New Orleans 2000 Lakeshore Drive New Orleans, LA 70148 Email: bayou@uno.edu Circulation: national Submission Guidelines: http://www.uno.edu/bayou/BayouHome/SubmissionGuidelines Approximate Response Time ? Publishes: biannual publication Year Founded: 2003 Information about your publication: Bayou Magazine is a biannual literary magazine with national circulation published by the Creative Writing Workshop at the...
Every
Writer
votenewmusic@yahoo.com
Administrator
I am the editor/owner of EWR, a writer, a publisher, and a teacher.
Literary Magazines