Black Heart Magazine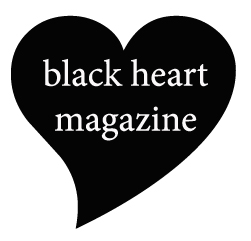 | | |
| --- | --- |
| Magazine Name | Black Heart Magazine |
| Twitter | http://twitter.com/blackheartmag |
| Facebook | http://facebook.com/BlackHeartMagazine |
| Website | http://blackheartmagazine.com |
| Editors Name | Laura Roberts |
| Print publication? | No |
| Mailing Address: | |
| Email | submit@blackheartmagazine.com |
| Circulation | 5,000 |
| Submission Guidelines URL | http://blackheartmagazine.com/submission-guidelines/ |
| Approx. Response Time? | 3 months or less |
| How often do you publish? | Every weekday (M to F) |
| Year Founded? | 2004 |
| Do you pay? | No payment |
| Do you take online submissions? | Yes |
| Information about your publication | Black Heart Magazine is an independent online literary magazine, transmitting our tenacious texts around the world at the speed of wifi. Founded by Editor-in-Chief Laura Roberts, the site has been combating clichés and berating boring wordslinging since 2004. Our objective can be summarized in three short words: Reading. Writing. Rebellion. That's LITERARY rebellion, so ease off the trigger there, tiger. In brief, we publish fiction that breaks the rules. Join us, if you dare. |
| What type of submissions are you looking for? | Short fiction (up to 1,500 words), poetry, indie and small press book reviews |
| Tell us about upcoming events or contests | Annual haiku contest held in September. For 2012 winner and information on the contest itself, see http://blackheartmagazine.com/haiku-contest/ |
http://www.everywritersresource.com/literarymagazines/black-heart-magazine/
Fiction
literary magazine
New and Interesting
Online Literary Magazine
Online Submissions
Poetry
Magazine Name Black Heart Magazine Twitter http://twitter.com/blackheartmag Facebook http://facebook.com/BlackHeartMagazine Website http://blackheartmagazine.com Editors Name Laura Roberts Print publication? No Mailing Address: Email submit@blackheartmagazine.com Circulation 5,000 Submission Guidelines URL http://blackheartmagazine.com/submission-guidelines/ Approx. Response Time? 3 months or less How often do you publish? Every weekday (M to F) Year Founded? 2004 Do you pay? No payment Do you take online submissions? Yes Information about your publication Black Heart Magazine is an independent online literary...
Every
Writer
votenewmusic@yahoo.com
Administrator
I am the editor/owner of EWR, a writer, a publisher, and a teacher.
Literary Magazines