Cactus Heart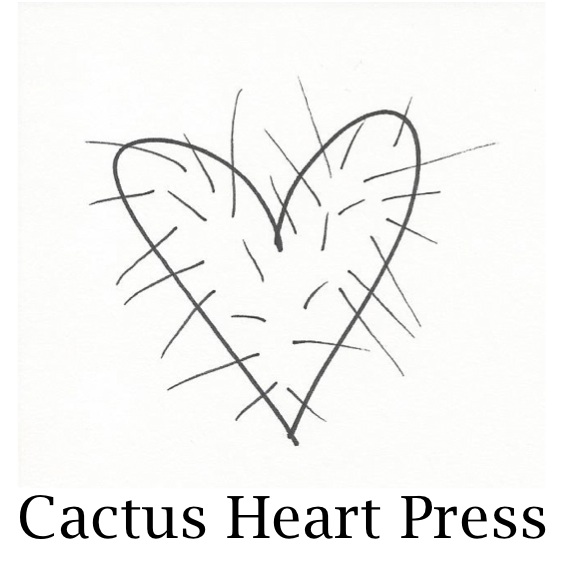 | | |
| --- | --- |
| Magazine Name: | Cactus Heart |
| Twitter: | https://twitter.com/#!/CactusHeartP |
| Facebook: | https://www.facebook.com/pages/Cactus-Heart-Press/169813959797515 |
| Website: | http://www.cactusheartpress.com |
| Editors Name: | Sara Rauch |
| Print publication?: | No |
| Mailing Address:: | |
| Email: | sara@cactusheartpress.com |
| Circulation: | < 1,000 |
| Submission Guidelines URL: | |
| Approx. Response Time?: | 4-6 weeks |
| How often do you publish?: | Every other month |
| Year Founded?: | 2012 |
| Do you take online submissions?: | Yes |
| Information about your publication: | Cactus Heart publishes new and original fiction, poetry, nonfiction, book reviews, drawings, and photography. We seek spiny writing and art?sharp, relentless, coursing with energy and able to thrive in the harshest of places, all while maintaining a vulnerable, succulent interior. We want writing and art that makes us swoon. |
| What type of submissions are you looking for?: | Poetry, fiction & nonfiction, book reviews, photography & art. |
| Tell us about upcoming events or contests: | Enter to win a free copy of Issue #1: http://www.cactusheartpress.com/?p=95 |
http://www.everywritersresource.com/literarymagazines/cactus-heart/
Art
C
Fiction
literary magazine
New and Interesting
Online Literary Magazine
Online Submissions
Poetry
Magazine Name: Cactus Heart Twitter: https://twitter.com/#!/CactusHeartP Facebook: https://www.facebook.com/pages/Cactus-Heart-Press/169813959797515 Website: http://www.cactusheartpress.com Editors Name: Sara Rauch Print publication?: No Mailing Address:: Email: sara@cactusheartpress.com Circulation: < 1,000 Submission Guidelines URL: Approx. Response Time?: 4-6 weeks How often do you publish?: Every other month Year Founded?: 2012 Do you take online submissions?: Yes Information about your publication: Cactus Heart publishes new and original fiction, poetry,...
Every
Writer
votenewmusic@yahoo.com
Administrator
I am the editor/owner of EWR, a writer, a publisher, and a teacher.
Literary Magazines