Chocorua Review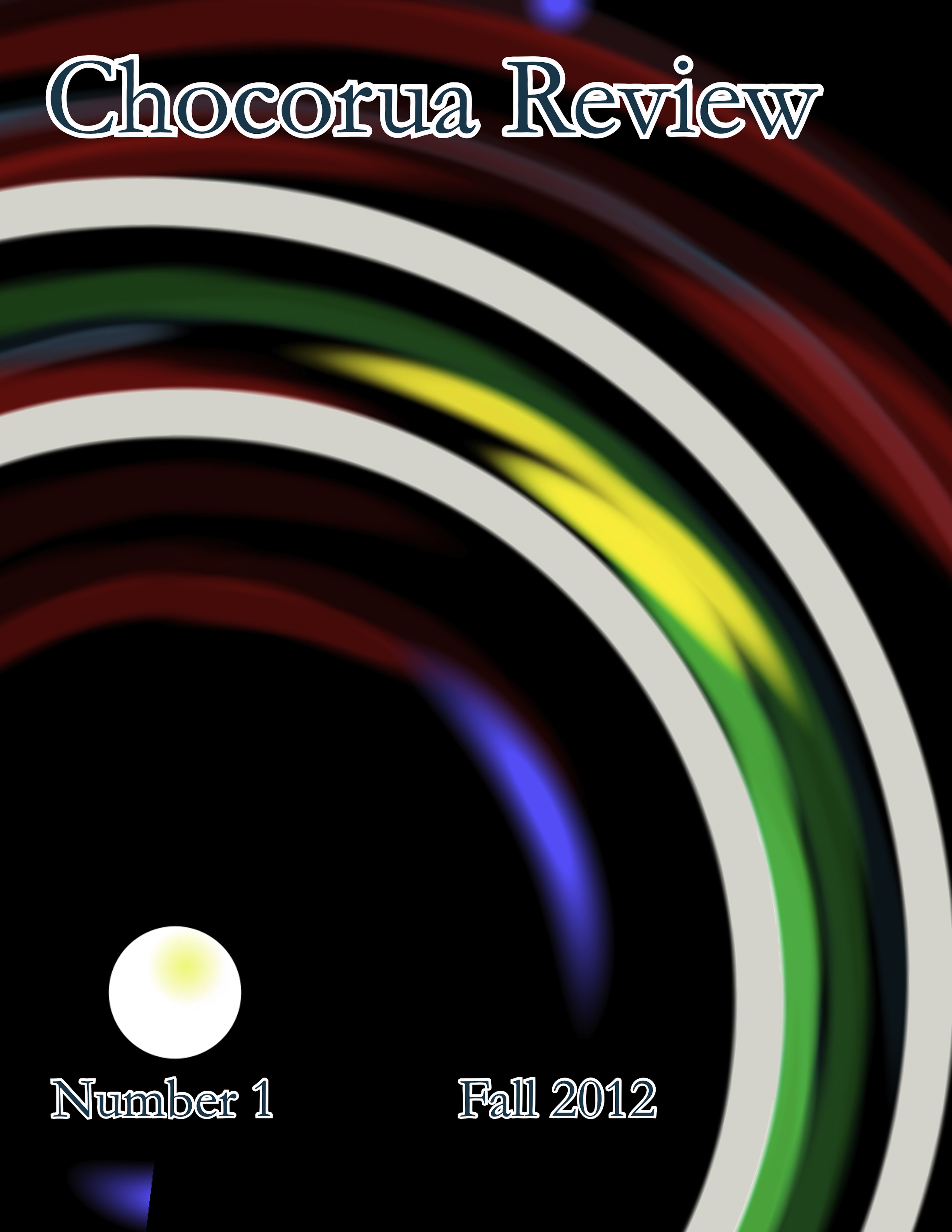 | | |
| --- | --- |
| Magazine Name: | Chocorua Review |
| Twitter: | ? |
| Facebook: | http://www.facebook.com/pages/Chocorua-Review/240526992696716 |
| Website: | http://www.ChocoruaReview.com |
| Editors Name: | Nylah Lyman and Kevin St. Jarre |
| Print publication?: | Yes |
| Mailing Address:: | Chocorua Review PO Box 505 North Waterboro, ME 04061 |
| Email: | chocoruareview@gmail.com |
| Circulation: | ? |
| Submission Guidelines URL: | http://chocoruareview.submishmash.com/submit |
| Approx. Response Time?: | 4-8 weeks |
| How often do you publish?: | Twice annually |
| Year Founded?: | 2012 |
| Do you take online submissions?: | Yes |
| Information about your publication: | Change moods. Change minds. We?re looking for verse, prose, photography, and paintings that carry intellectual and emotional weight. Work that has something to say. To reveal. To teach. Something that will make our audience pause and think. Blow our hair back. Show us what you?ve got. We dare you. Whether you?re a writer or a visual artist, you know that your chosen craft is a lonely endeavor. It gets even lonelier when you start wondering if you don?t have the right connections to get your work published. As an antidote to that largely unfounded but sometimes crippling paranoia, we prescribe Chocorua Review. Chocorua Review provides a place for newcomers to see their work published alongside award-winning artists. We?re dedicated to bringing great art to as large an audience as possible, judged solely on its merits and its fit with our aesthetic. Armed with nothing more than this philosophy and over a decade of combined publishing experience, we created Chocorua Review, dedicated to showcasing the latest and greatest writing and visual artwork. In addition to the digital edition, we have our glossy, full-color print edition. After the sunspots, Mayan calendars, meteors, and the zombie apocalypse, it will be important to leave a tangible record of your work for the next inhabitants to find. And besides all that, it?s kind of cool to hold your work in your own hands. |
| What type of submissions are you looking for?: | We publish short fiction, creative nonfiction, poetry, and visual art. We favor thoughtful writing and art; well-crafted work that gives the reader or viewer reason to pause and think. If your work can change the mood of the reader and give her or him something new to consider, you're in. Try us. |
| Tell us about upcoming events or contests: | ? |
| Picture url: | ? |
| Include a picture.: | http://www.everywritersresource.com/literarymagazines/wp-content/uploads/2012/03/crdum.jpg |
http://www.everywritersresource.com/literarymagazines/chocorua-review/
Art
Fiction
literary magazine
New and Interesting
Non-fiction
Online Literary Magazine
Online Submissions
Poetry
Magazine Name: Chocorua Review Twitter: ? Facebook: http://www.facebook.com/pages/Chocorua-Review/240526992696716 Website: http://www.ChocoruaReview.com Editors Name: Nylah Lyman and Kevin St. Jarre Print publication?: Yes Mailing Address:: Chocorua Review PO Box 505 North Waterboro, ME 04061 Email: chocoruareview@gmail.com Circulation: ? Submission Guidelines URL: http://chocoruareview.submishmash.com/submit Approx. Response Time?: 4-8 weeks How often do you publish?: Twice annually Year Founded?: 2012 Do you take online submissions?: Yes Information about...
Every
Writer
votenewmusic@yahoo.com
Administrator
I am the editor/owner of EWR, a writer, a publisher, and a teacher.
Literary Magazines