Chronicles [insert story here]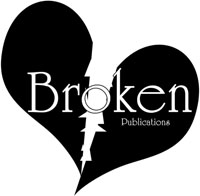 | | |
| --- | --- |
| Magazine Name: | Chronicles [insert story here] |
| Twitter: | ? |
| Facebook: | ? |
| Website: | http://www.thechroniclesof.com |
| Editors Name: | Jennifer-Crystal Johnson |
| Print publication?: | Yes |
| Mailing Address:: | ? |
| Email: | jen@brokenpublications.com |
| Circulation: | ? |
| Submission Guidelines URL: | http://www.thechroniclesof.com |
| Approx. Response Time?: | Two months or less. |
| How often do you publish?: | Every two months, beginning February of 2013. |
| Year Founded?: | 2012 |
| Do you take online submissions?: | Yes |
| Information about your publication: | Chronicles [insert story here] is a brand new literary magazine launching in February of 2013. We will be accepting submissions as of now, though, and will continue to accept submissions year-round. The idea behind this literary magazine is to collect inspired pieces; pieces with stories attached to them, reasons for their existence. Sometimes a writer comes out with a piece and doesn't know for sure where it came from; the same is true for other artists. We'd like to know where the pieces came from and what inspired them; what was an important part of life that drove the need to get this piece out there onto the chosen medium? Answer this with your submissions and you'll strike our deepest interests. |
| What type of submissions are you looking for?: | Chronicles [insert story here] focuses on poetry, art, stories, and essays with a back story. Though publication of the back story is optional, it is required that the submitter specifies why they created the piece and why it's important. Most art and written work has some sort of inspiration behind it, so this shouldn't be a problem =). There are no themes, only collections of stories in the form of art, poetry, photos, and other written works. |
http://www.everywritersresource.com/literarymagazines/chronicles-insert-story-here/
C
Essays
Fiction
literary magazine
New and Interesting
Online Literary Magazine
Online Submissions
Poetry
Magazine Name: Chronicles Twitter: ? Facebook: ? Website: http://www.thechroniclesof.com Editors Name: Jennifer-Crystal Johnson Print publication?: Yes Mailing Address:: ? Email: jen@brokenpublications.com Circulation: ? Submission Guidelines URL: http://www.thechroniclesof.com Approx. Response Time?: Two months or less. How often do you publish?: Every two months, beginning February of 2013. Year Founded?: 2012 Do you take online submissions?: Yes Information about your publication: Chronicles is...
Every
Writer
votenewmusic@yahoo.com
Administrator
I am the editor/owner of EWR, a writer, a publisher, and a teacher.
Literary Magazines