Exit Strata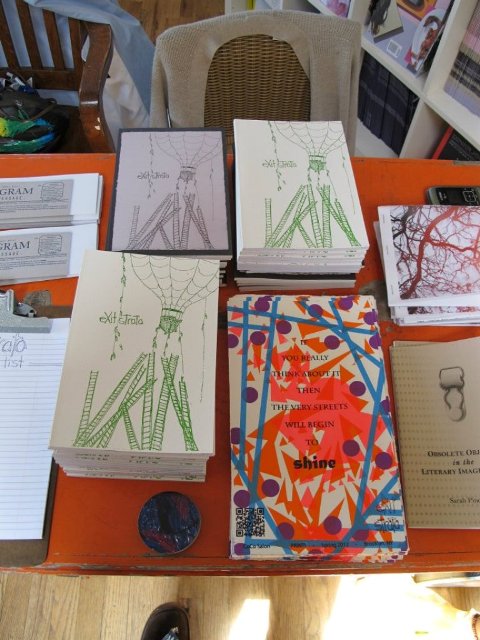 | | |
| --- | --- |
| Magazine Name: | Exit Strata |
| Twitter: | @exitstrata |
| Facebook: | www.facebook.com/exitstrata |
| Website: | http://www.exitstrata.com/ |
| Editors Name: | Lynne Desilva-Johnson, Benjamin Wiessner, DA Wright |
| Print publication?: | Yes |
| Mailing Address:: | ? |
| Email: | BCWiessner@gmail.com |
| Circulation: | 1250 and growing |
| Submission Guidelines URL: | http://www.exitstrata.com/submissions/ |
| Approx. Response Time?: | 45 days |
| How often do you publish?: | Spring and Fall |
| Year Founded?: | 2011 |
| Do you take online submissions?: | Yes |
| Information about your publication: | Exit Strata is a strategy, a process, a community, a creative approach to living life and leaving a trail behind you. Exit Strata publications are most accurately described as documentation; of an archive of the production of eXsT which can be replicated in two dimensions. The website provides a constant stream of content, a place for meeting, discovering, and sharing. We strive to give equal attention to art and literature, often merging the two through collaboration between artists and writers? and also in recognizing the ultimately fuzzy boundaries between these (and all) creative ?disciplines.? More than anything we want to stress that Exit Strata is a creators community, a network, and a platform for mutual expression, appreciation, collaboration, dialogue, interdisciplinary exploration ? and a place where we celebrate the growing relationship between digital and print media. It is, ultimately, an exercise in the self-actualization of a viable cooperative for growing value. |
| What type of submissions are you looking for?: | Exit Strata looks for short fiction, poetry, artwork (and genre defying acts of 2-dimensional splendor) for our third print issue. We want your best, most original works. If your question begins ?but do you publish ____?? the answer is probably YES (if it is quality). Music? Yes ma?am. One-acts? Thank you kindly. Mathematical formula? Manifesto? Cypher? Please and thank you. Along those lines, do please review the archive to orient yourself to the energy of our community and the type of work we publish and encourage, as well the work of our Collaborative Salon. Please feel free to submit collaborative projects! We are interested in process as well as product ? tell us how as well as what! It is crucial that you understand Exit Strata is not a traditional publication regarding ?the page? ? we encourage in our selves and in our collaborators/contributors a willingness to PLAY therein: publication in Exit Strata is the opposite of staid and formal. Please don?t approach with preciousness. |
| Tell us about upcoming events or contests: | We are accepting submissions for our third issue. We are also currently running an indiegogo (http://www.indiegogo.com/exitstrata) to print our second issue, which will be out next month. We recently gained non-profit status so donations are tax-deductible. This fundraising drive is to help us establish our portfolio for future grants, so any money raised will go a long ways both now and in the future. |
http://www.everywritersresource.com/literarymagazines/exit-strata/
Art
E
Fiction
literary magazine
Literary magazine in Print
New and Interesting
Online Submissions
Poetry
Print magazine/Online Submissions
Magazine Name: Exit Strata Twitter: @exitstrata Facebook: www.facebook.com/exitstrata Website: http://www.exitstrata.com/ Editors Name: Lynne Desilva-Johnson, Benjamin Wiessner, DA Wright Print publication?: Yes Mailing Address:: ? Email: BCWiessner@gmail.com Circulation: 1250 and growing Submission Guidelines URL: http://www.exitstrata.com/submissions/ Approx. Response Time?: 45 days How often do you publish?: Spring and Fall Year Founded?: 2011 Do you take online submissions?: Yes Information about your publication: Exit Strata is a strategy, a process, a community, a creative approach to living life and leaving a...
Every
Writer
votenewmusic@yahoo.com
Administrator
I am the editor/owner of EWR, a writer, a publisher, and a teacher.
Literary Magazines