FIELD: Contemporary Poetry and Poetics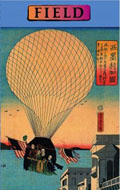 Magazine Name:
FIELD: Contemporary Poetry and

Poetics

Website:

http://www.oberlin.edu/ocpress/

Editor:

David Young

,

David Walker

Print Magazine?
Yes
Mailing Address:

50 N. Professor Street Oberlin, OH 44074

Email:

oc.press@oberlin.edu

Circulation:
2500
Submission Guidelines:

http://www.oberlin.edu/ocpress/submissions.html

Approximate Response Time
6-8 weeks
Publishes:
Twice yearly
Year Founded:
1969
Information about your publication:
FIELD: Contemporary Poetry and Poetics was founded in 1969 as a periodical devoted to poetry that would combine fresh viewpoints, editorial discrimination, and an attention to the best work being produced in the United States and abroad, regardless of allegiance to schools or categories or reputations. Published twice annually, it provides a forum where poets, eminent and emerging, show each other and those who follow the course of the art what is innovative and most interesting.
What type of submissions you are looking for:
Please keep in mind that FIELD is one of the most selective small poetry journals in the country. We suggest you familiarize yourself with our journal before submitting. FIELD accepts poetry only.

Translations

are welcome if publication permission has been acquired from the author of the original work.