Fresh! Literary Magazine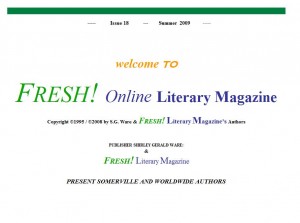 Magazine Name:
Fresh!

Literary Magazine

Website:

http://users.rcn.com/freshlit

Editor:

James Patrick Smith

Print Magazine?
Yes
Mailing Address:
Email:

freshlit@rcn.com

Circulation:
4000
Submission Guidelines:
freshlit@rcn.com
Approximate Response Time
10 business days
Publishes:
every three months
Year Founded:
1999
Online Submissions?
Yes
Information about your publication:
Fresh! Literry Magazine is a adult and teens literary magazine of short stories, poetry articles and we review ! books.
What type of submissions you are looking for:
Clean short stories, poetry, articles and books for review.
Information on Contests:
We have a contest underway for the summer, entry fee is $10.00
http://www.everywritersresource.com/literarymagazines/fresh-literary-magazine/
Book Reviews
Contests
Defunct
Essays
F
Fiction
literary magazine
Literary magazine in Print
Online Submissions
Poetry
Print magazine/Online Submissions
T
Teen
W
Fiction,fresh literary magazine,literary magazine,Poetry
Magazine Name: Fresh! Literary Magazine Website: http://users.rcn.com/freshlit Editor: James Patrick Smith Print Magazine? Yes Mailing Address: Email: freshlit@rcn.com Circulation: 4000 Submission Guidelines: freshlit@rcn.com Approximate Response Time 10 business days Publishes: every three months Year Founded: 1999 Online Submissions? Yes Information about your publication: Fresh! Literry Magazine is a adult and teens literary magazine of short stories, poetry articles and we review ! books. What type of submissions you are looking for: Clean short stories, poetry,...
Every
Writer
votenewmusic@yahoo.com
Administrator
I am the editor/owner of EWR, a writer, a publisher, and a teacher.
Literary Magazines