Heavy Bear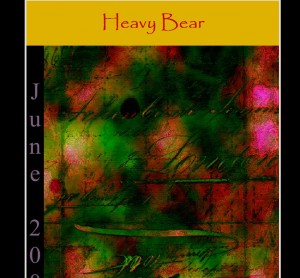 Magazine Name:
Heavy Bear
Website:
Defunct
Editor:
Jane Crown
Mailing Address:

418 Clay St. # 501 San Antonio,Tx. 78204

Email:

archers.crown@gmail.com

Circulation:
1,000
Submission Guidelines:
Defunct
Approximate Response Time
1 week
Publishes:
4 times a year (quarterly)
Year Founded:
2009
Online Submissions?
Yes
Information about your publication:
Heavy Bear is a

literary journal

promoting international poets,of any genre,academic to underground writers are all welcome.We aim to offer the renowned as well as emerging talent a venue in which to fit their quality work. Heavy Bear also features an artist (painter,photographer,etc.) again,any genre of work each issue,alongside his/her artistic statement with a presence on the cover of the magazine. Within five months the publication already enjoys a readership from around the world of over 1 thousand unique views.We have received a listing within the first two months from Duotrope's. In 2010-as we are fast growing,we hope to be available in print. Submissions have been so amazing,at this time we are closed for further submissions until Fall 2009,as the next two issues (3 and 4) have been filled.Jane Crown also hosts a highly successful on-line radio program with a listener-ship of over 15,000 world wide @

janecrown.com

What type of submissions you are looking for:
We accept any genre,any artistic content. Anything from concrete,to sonnets,ekphratic,etc.All are welcome aboard.All ranges of poets and poetry. Our tastes are eclectic at Heavy Bear. We also feature audio files for three poets per issue. The aim is furthermore;to garner at least one unpublished poet each issue.
Information on Contests:
None thus far-however,there may be an upcoming chapbook contest in 2010 for an unpublished author for his/her first collection.