High Desert Journal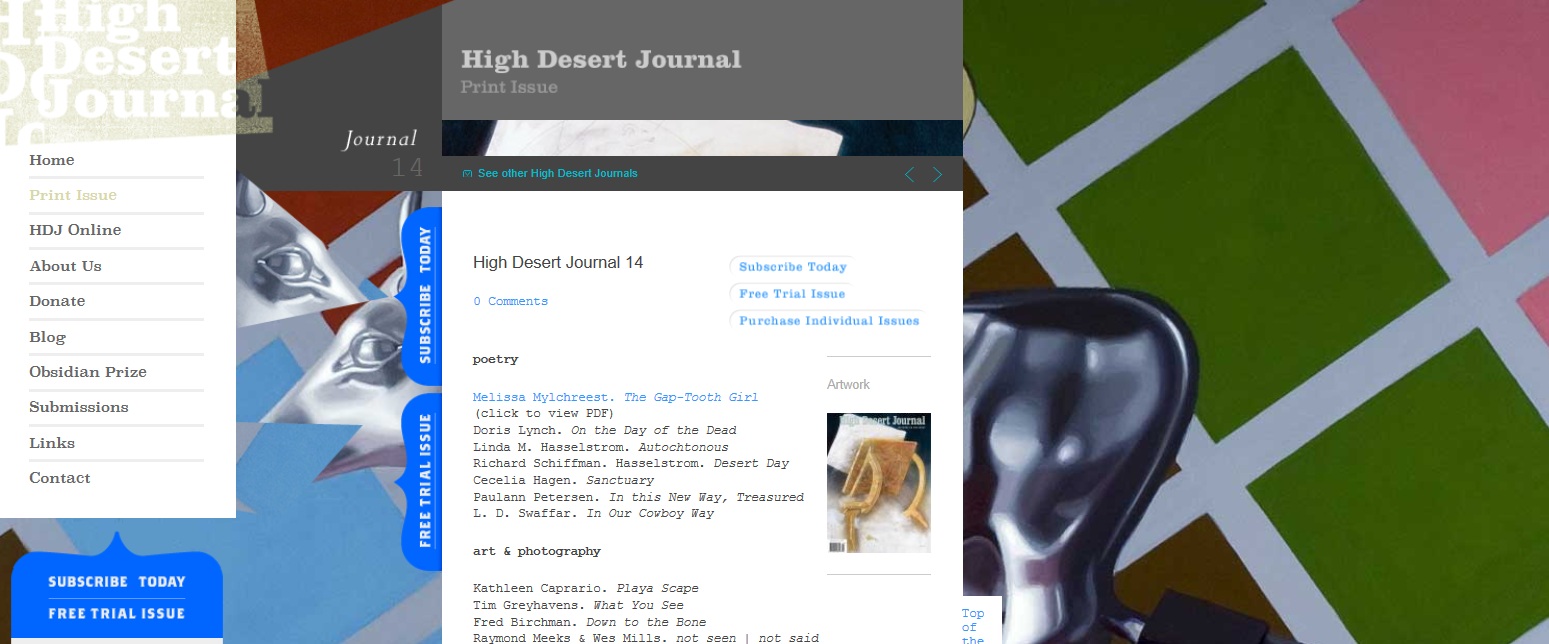 | | |
| --- | --- |
| Magazine Name: | High Desert Journal |
| Twitter: | |
| Facebook: | http://www.facebook.com/highdesertjournal |
| Website: | http://www.highdesertjournal.com |
| Editors Name: | Elizabeth Quinn |
| Print publication?: | Yes |
| Mailing Address:: | High Desert Journal P.O. Box 7647 Bend, OR, 97708 |
| Email: | tina@highdesertjournal.com |
| Circulation: | |
| Submission Guidelines URL: | http://www.highdesertjournal.com/submissions/ |
| Approx. Response Time?: | |
| How often do you publish?: | Bi-annual |
| Year Founded?: | 2005 |
| Do you take online submissions?: | Yes |
| Information about your publication: | High Desert Journal is a literary and visual art magazine dedicated to further understanding the people, places and issues of the interior West. Its pages help define this region in literary and artistic terms, and represent a collection of work that charts the changes of a distinctive, unique region. High Desert Journal is one of the first publications to give readers another way to understand and think about the high desert: through the stories and images that spring from the memories and imaginations of writers and artists. |
| What type of submissions are you looking for?: | High Desert Journal is a forum for literary, visual and journalistic artists to contribute a deeper understanding of the landscape and people of the interior West. We accept poetry, fiction, creative nonfiction, memoirs, books reviews, essays, interviews and visual arts. High Desert Journal is looking for quality work that illuminates the landscape of the interior West, the people and the relationships between the two. We accept work from residents of the interior West working with any theme, and from anyone living outside of this region creating with an element or theme of the interior West. |
| Tell us about upcoming events or contests: | Obsidian Prize for Nonfiction. Deadline: April 12, 2012. Prize: $1000 + publication in High Desert Journal. Details at http://www.highdesertjournal.com/obsidian-prize/ |
| | |
http://www.everywritersresource.com/literarymagazines/high-desert-journal/
Fiction
literary magazine
Literary magazine in Print
New and Interesting
Non-fiction
Online Submissions
Poetry
Print magazine/Online Submissions
Magazine Name: High Desert Journal Twitter: Facebook: http://www.facebook.com/highdesertjournal Website: http://www.highdesertjournal.com Editors Name: Elizabeth Quinn Print publication?: Yes Mailing Address:: High Desert Journal P.O. Box 7647 Bend, OR, 97708 Email: tina@highdesertjournal.com Circulation: Submission Guidelines URL: http://www.highdesertjournal.com/submissions/ Approx. Response Time?: How often do you publish?: Bi-annual Year Founded?: 2005 Do you take online submissions?: Yes Information about your publication: High Desert Journal...
Every
Writer
votenewmusic@yahoo.com
Administrator
I am the editor/owner of EWR, a writer, a publisher, and a teacher.
Literary Magazines