Nib Magazine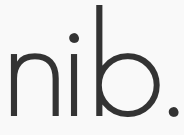 | | |
| --- | --- |
| Magazine Name: | Nib Magazine |
| Twitter: | @nibmagazine |
| Facebook: | ? |
| Website: | http://www.nibmagazine.com |
| Editors Name: | Christopher Leech |
| Print publication?: | No |
| Mailing Address:: | ? |
| Email: | contact@nibmagazine.com |
| Circulation: | ? |
| Submission Guidelines URL: | htpp://www.nibmagazine.com/submit/ |
| Approx. Response Time?: | 5-7 days |
| How often do you publish?: | depends on specific feature (full online issue every 1-2 months) |
| Year Founded?: | 2012 |
| Do you take online submissions?: | Yes |
| Information about your publication: | Nib is an online magazine that showcases the very best in new short literary fiction and poetry. Our primary mission is to provide a voice and a platform for brilliant emerging writers. Nib is maintained and operated by volunteers, most of us writers. We do not discriminate against beginners or unpublished authors and we?re equally accepting of established writers too. We merely aim to give great writers a chance to publish their work and to provide readers an equally good experience by only publishing what we believe to be exceptional short fiction and poetry. |
| What type of submissions are you looking for?: | Short literary fiction (less than 10,000 words) and poetry of any length. We do sometime accept genre fiction for a specific feature we have called Genre Corner. Flash fiction (literary fiction only, no fan fiction) less than 1,000 words for our flash Friday feature. |
| Tell us about upcoming events or contests: | Launch Issue (October) deadline for submissions midnight 16th September 2012. |
http://www.everywritersresource.com/literarymagazines/nib-magazine/
Fiction
literary magazine
N
New and Interesting
Online Literary Magazine
Online Submissions
Poetry
Magazine Name: Nib MagazineTwitter: @nibmagazineFacebook: ?Website: http://www.nibmagazine.comEditors Name: Christopher LeechPrint publication?: NoMailing Address:: ?Email: contact@nibmagazine.comCirculation: ?Submission Guidelines URL: htpp://www.nibmagazine.com/submit/Approx. Response Time?: 5-7 daysHow often do you publish?: depends on specific feature (full online issue every 1-2 months)Year Founded?: 2012Do you take online submissions?: YesInformation about your publication: Nib is...
Every
Writer
votenewmusic@yahoo.com
Administrator
I am the editor/owner of EWR, a writer, a publisher, and a teacher.
Literary Magazines