Phantom Limb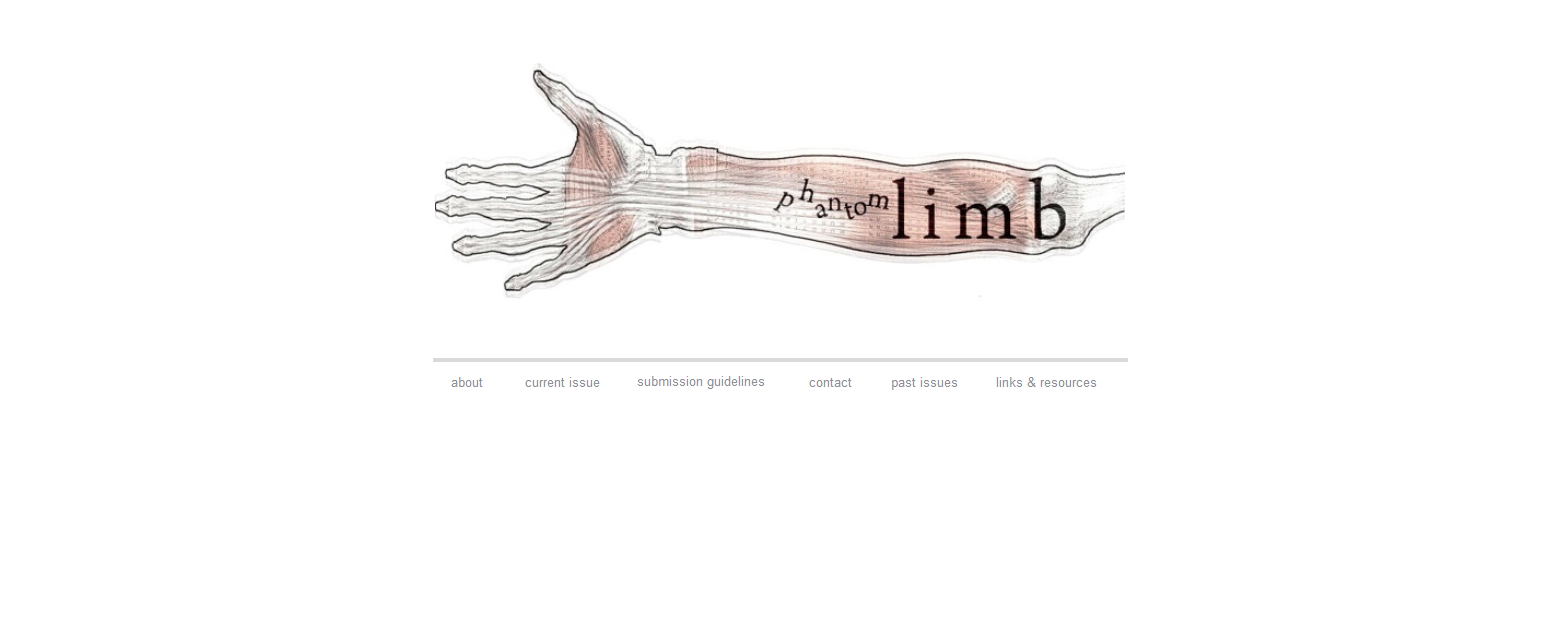 | | |
| --- | --- |
| Magazine Name: | Phantom Limb |
| Website: | http://www.phantomlimbpress.com |
| Twitter: | |
| Facebook: | https://www.facebook.com/pages/Phantom-Limb-Press/279017852461 |
| Editor: | Kelly Forsythe, Raul Alvarez, Hafizah Geter, Jeffrey Allen, Joseph Mains, Cat Richardson, Ekoko Omadeke, Ryann Wahl |
| Mailing Address: | Chicago, IL |
| Email: | phantomlimbpress@gmail.com |
| Circulation: | |
| Submission Guidelines: | http://www.phantomlimbpress.com/Phantom_Limb/Submission_Guidelines.html |
| Approximate Response Time | 2-4 months |
| Publishes: | 4 times a year |
| Year Founded: | 2010 |
| Online Submissions? | Yes |
| Information about your publication: | Phantom Limb is an independent online poetry journal. We do not adhere to any particular aesthetic but seek quality writing that is not afraid to take risks. We are currently seeking submissions for our second issue. See website for full guidelines, or contact phantomlimbpress@gmail.com. Editor: Kelly Forsythe? Poetry Editors: Jeffrey Allen and Hafizah Geter Assistant Poetry Editors: Ryann Wahl, Ekoko Omadeke, Cat Richardson, Joseph Mains Managing Editor: Raul Alvarez |
| What type of submissions you are looking for: | Currently seeking only poetry, poetry book reviews or interviews with poets. |
http://www.everywritersresource.com/literarymagazines/phantom-limb/
Interviews
literary magazine
New and Interesting
Online Literary Magazine
Online Submissions
P
Poetry
Reviews
Magazine Name: Phantom Limb Website: http://www.phantomlimbpress.com Twitter: Facebook: https://www.facebook.com/pages/Phantom-Limb-Press/279017852461 Editor: Kelly Forsythe, Raul Alvarez, Hafizah Geter, Jeffrey Allen, Joseph Mains, Cat Richardson, Ekoko Omadeke, Ryann Wahl Mailing Address: Chicago, IL Email: phantomlimbpress@gmail.com Circulation: Submission Guidelines: http://www.phantomlimbpress.com/Phantom_Limb/Submission_Guidelines.html Approximate Response Time 2-4 months Publishes: 4 times a year Year Founded: 2010 Online Submissions? Yes Information about your publication: Phantom Limb is an independent online poetry journal. We do not adhere to any particular aesthetic but seek...
Every
Writer
votenewmusic@yahoo.com
Administrator
I am the editor/owner of EWR, a writer, a publisher, and a teacher.
Literary Magazines