Printer's Devil Review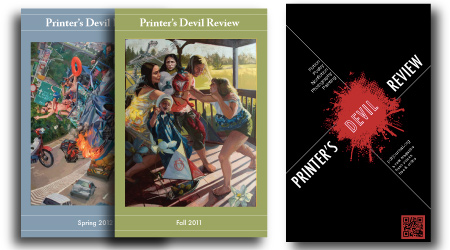 | | |
| --- | --- |
| Magazine Name: | Printer's Devil Review |
| Twitter: | ? |
| Facebook: | http://www.facebook.com/pages/PDR/191689094179061 |
| Website: | http://pdrjournal.org |
| Editors Name: | Thomas Dodson |
| Print publication?: | No |
| Mailing Address:: | ? |
| Email: | editors@pdrjournal.org |
| Circulation: | ? |
| Submission Guidelines URL: | http://pdrjournal.org/submit |
| Approx. Response Time?: | 50 to 90 days |
| How often do you publish?: | semiannual (twice a year) |
| Year Founded?: | 2011 |
| Do you take online submissions?: | Yes |
| Information about your publication: | Printer?s Devil Review is an independent, open access journal of literary and visual art. We provide emerging writers and artists with access to publication and inquisitive readers with new voices and visions. |
| What type of submissions are you looking for?: | We publish fiction, novel excerpts, poetry, essays and creative nonfiction. Each issue features the work of two artists (usually a painter and a photographer). The magazine is primarily online, and available for free from our website as a PDF and an EBook. The print version is available for on-demand purchase at Lulu.com. We work very hard to ensure writers' work is presented at least as attractively as most print publications, with careful attention to graphics, layout, and typography. Sometimes, people ask us for the names of writers we like. Here are some (in no particular order): Maile Meloy, Miranda July, Lorrie Moore, George Saunders, Mary Gaitskill, Wells Tower, Joshua Ferris, ZZ Packer, Gary Shteyngart, Jim Shepard, Margaret Atwood, Tom Perrotta, Alice Munro, Gish Jen, William Trevor, Anton Chekhov. Sometimes, people ask us for the names of poets we like. Here are some (in no particular order): John Ashbery, Ted Berrigan, John Berryman, Anne Carson, William Carlos Williams, T.S. Elliot, Naomi Shihab Nye, Louise Gl?ck, Matthea Harvey, Larry Levis, Bernadette Mayer, Jack Spicer, James Tate, C.D. Wright, Dean Young, Rainer Maria Rilke, Franz Wright, Mark Strand, Wallace Stevens, Elizabeth Bishop, Charles Simic. Sorry, but we?re not interested in erotica, horror, romance, inspirational, or other genre ?ction. That said, literary ?ction that plays with generic conventions is welcome. |
| Tell us about upcoming events or contests: | We recently hosted an anniversary party with readings from our contributors, including the Pulitzer Prize-winning poet Franz Wright. |
http://www.everywritersresource.com/literarymagazines/printers-devil-review/
Art
D
Essays
Fiction
literary magazine
New and Interesting
Online Literary Magazine
Online Submissions
Poetry
Magazine Name: Printer's Devil ReviewTwitter: ?Facebook: http://www.facebook.com/pages/PDR/191689094179061Website: http://pdrjournal.orgEditors Name: Thomas DodsonPrint publication?: NoMailing Address:: ?Email: editors@pdrjournal.orgCirculation: ?Submission Guidelines URL: http://pdrjournal.org/submitApprox. Response Time?: 50 to 90 daysHow often do you publish?: semiannual (twice a year)Year Founded?: 2011Do you take online submissions?: YesInformation about your publication: Printer?s Devil Review is an...
Every
Writer
votenewmusic@yahoo.com
Administrator
I am the editor/owner of EWR, a writer, a publisher, and a teacher.
Literary Magazines