Red Dress Press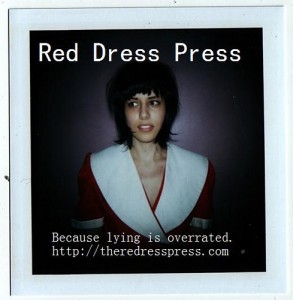 Magazine Name:
Red Dress Press
Website:

DEFUNCT

Editor:
Jamie Stroble
Mailing Address:
Email:

submissions@thereddresspress.com

Circulation:
Submission Guidelines:
Approximate Response Time
1 – 3 months
Publishes:
quarterly
Year Founded:
2010
Online Submissions?
Yes
Information about your publication:
Red Dress Press is a new

literary magazine

founded in April of 2010. We are a nonfiction journal of essays, poetry, quotes, and photography. R! ed Dress Press: because truth is underrated.
What type of submissions you are looking for:
Literary

creative nonfiction essays

Nonfiction poetry (short, sparkling, lyric verse that tells a true story or describes something that exists) Works of up to 1500 words Reviews. Preferably arts-based and not self-promoting. Undoctored photography in jpeg format
http://www.everywritersresource.com/literarymagazines/red-dress-press/
Defunct
Magazine Name: Red Dress Press Website: DEFUNCT Editor: Jamie Stroble Mailing Address: Email: submissions@thereddresspress.com Circulation: Submission Guidelines: Approximate Response Time 1 - 3 months Publishes: quarterly Year Founded: 2010 Online Submissions? Yes Information about your publication: Red Dress Press is a new literary magazine founded in April of 2010. We are a nonfiction journal of essays, poetry, quotes, and photography. R! ed Dress Press: because truth is underrated. What type...
Every
Writer
votenewmusic@yahoo.com
Administrator
I am the editor/owner of EWR, a writer, a publisher, and a teacher.
Literary Magazines