Rio Grande Review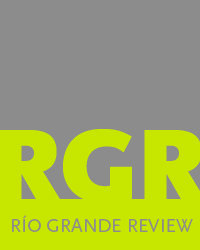 | | |
| --- | --- |
| Magazine Name: | Rio Grande Review |
| Twitter: | @rgrutep |
| Facebook: | http://www.facebook.com/thergr |
| Website: | DEFUNCT |
| Editors Name: | University of Texas at El Paso. Paul Guillen and Juan Pablo Plata. |
| Print publication?: | Yes |
| Mailing Address:: | R?o Grande Review University of Texas at El Paso PMB 671500 W. University Avenue El Paso, Texas 79968 |
| Email: | rgreditors@gmail.com |
| Circulation: | 1000-2000 |
| Submission Guidelines URL: | |
| Approx. Response Time?: | 2 weeks |
| How often do you publish?: | Biannual |
| Year Founded?: | 1981 |
| Do you take online submissions?: | Yes |
| Information about your publication: | R?o Grande Review. A Bilingual Journal of Contemporary Literature. The RIO GRANDE REVIEW (RGR), the Department of Creative Writing at the University of Texas at El Paso?s literary magazine. |
| What type of submissions are you looking for?: | This edition of the magazine will also have a special section dedicated to works of visual literature – visual poetry and performance and criticism of these genres. Submissions must be in a format, either text or image, reproducible in a print journal. Each work submitted for this section may be used both for the RGR website and/or for the print version of the magazine. By submitting work to the Rio Grande Review the author gives authorization for the use of his work in both mediums. The deadline for submission is October 31st 2012. Texts can be in English, Spanish. We are also accepting submissions in indigenous languages if they are translated into Spanish or English. Please email your submissions to rgreditors@gmail.com, along with a short biographical note. |
http://www.everywritersresource.com/literarymagazines/rio-grande-review/
Defunct
Magazine Name: Rio Grande Review Twitter: @rgrutep Facebook: http://www.facebook.com/thergr Website: DEFUNCT Editors Name: University of Texas at El Paso. Paul Guillen and Juan Pablo Plata. Print publication?: Yes Mailing Address:: R?o Grande Review University of Texas at El Paso PMB 671500 W. University Avenue El Paso, Texas 79968 Email: rgreditors@gmail.com Circulation: 1000-2000 Submission Guidelines URL: Approx. Response Time?:...
Every
Writer
votenewmusic@yahoo.com
Administrator
I am the editor/owner of EWR, a writer, a publisher, and a teacher.
Literary Magazines