RipRap Journal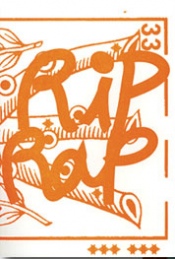 | | |
| --- | --- |
| Magazine Name: | RipRap Journal |
| Twitter: | ? |
| Facebook: | http://facebook.com/RipRapJournal |
| Website: | http://www.riprapjournal.net |
| Editors Name: | Eric Forrester |
| Print publication?: | Yes |
| Mailing Address:: | CSULB Department of English Attn: RipRap1250 Bellflower Blvd. Long Beach, CA 90840 |
| Email: | riprapjournal@gmail.com |
| Circulation: | >1000 |
| Submission Guidelines URL: | http://www.riprapjournal.net |
| Approx. Response Time?: | 1-3 months |
| How often do you publish?: | Annually |
| Year Founded?: | 1979 |
| Do you take online submissions?: | Yes |
| Information about your publication: | Welcome to RipRap, a literary journal designed and produced annually by students in the Master of Fine Arts, Creative Writing program at California State University Long Beach (CSULB). Since its inception in 1951, the journal has evolved from its original title, Hornspoon until it was renamed Gambit and finally in 1979, RipRap. RipRap reaches farther than the wide regions of its home in Southern California and highlights writers from across the country as well as enlightening interviews of award winning, published writers who are featured in the English Department?s Visiting Writers Series. RipRap offers an invitation to all talented and aspiring writers of all genres and is open to everyone. Specifically, RipRap publishes creative short fiction and non fiction, poetry, and art such as photography, illustration, and original art pieces as well as comics. |
| What type of submissions are you looking for?: | Fiction, Nonfiction, Poetry & Artwork |
| Tell us about upcoming events or contests: | Friday May 11th Release Party! The release party will be held during the evening of Friday, 11 May 2012 at the Beach Auditorium (1st floor of the University Student Union in the center of campus) from 7:00-9:00pm, 1212 N. Bellflower Blvd. Long Beach, CA, 90840. |
http://www.everywritersresource.com/literarymagazines/riprap-journal/
Art
Fiction
literary magazine
Literary magazine in Print
New and Interesting
Non-fiction
Online Submissions
Poetry
Print magazine/Online Submissions
Magazine Name: RipRap Journal Twitter: ? Facebook: http://facebook.com/RipRapJournal Website: http://www.riprapjournal.net Editors Name: Eric Forrester Print publication?: Yes Mailing Address:: CSULB Department of English Attn: RipRap1250 Bellflower Blvd. Long Beach, CA 90840 Email: riprapjournal@gmail.com Circulation: >1000 Submission Guidelines URL: http://www.riprapjournal.net Approx. Response Time?: 1-3 months How often do you publish?: Annually Year Founded?: 1979 Do you take online submissions?: Yes Information about your publication:...
Every
Writer
votenewmusic@yahoo.com
Administrator
I am the editor/owner of EWR, a writer, a publisher, and a teacher.
Literary Magazines