Saranac Review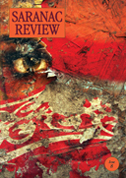 | | |
| --- | --- |
| Name: | Saranac Review |
| Twitter: | |
| Facebook: | http://www.facebook.com/pages/Saranac-Review-SR/185008924919632 |
| Website: | http://research.plattsburgh.edu/saranacreview/ |
| Editors Name: | J.L. Torres |
| Print publication?: | Yes |
| Mailing Address:: | Saranac Review Dept of English?SUNY Plattsburgh?Plattsburgh, N.Y. 12901 |
| Email: | saranacreview@plattsburgh.edu |
| Circulation: | 500 |
| Submission Guidelines URL: | http://research.plattsburgh.edu/saranacreview/submissions.html |
| Approx. Response Time?: | 4-6 months |
| How often do you publish?: | Annual |
| Year Founded?: | 2004 |
| Do you take online submissions?: | No |
| Information about your publication: | The Saranac Review was born in 2004 out of four writers' vision to open a space for the celebration of many voices including those from Canada. Attempting to act as a source of connection, the journal publishes the work of emerging and established writers from both countries. As our mission states, "The Saranac Review is committed to dissolving boundaries of all kinds, seeking to publish a diverse array of emerging and established writers from Canada and the United States. The Saranac Review aims to be a textual clearing in which a space is opened for cross-pollination between American and Canadian writers. In that way, we aim to be a textual river reflecting diverse voices, a literal "cluster of stars," an illumination of the Iroquois roots of our namesake, the word, Saranac. We believe in a vision of shared governance, of connection, and in the power of art. |
| What type of submissions are you looking for?: | Our editorial scope is eclectic, and open to all styles, but we are looking for work that is literary, engaging, well crafted and has resonance. We are not interested in genre fiction (eg.Sci fiction; horror, etc.) or light verse. We suggest that any writer interested in submitting work read a copy of the journal. Subscribe or obtain a sample issue for $6.The Saranac Review is an annual so there is a relatively long time between submissions. |
| Tell us about upcoming events or contests: | First Annual Saranac Review Writing Contest. $500 prize each for best story and best poem, plus publication. Judges: Aimee Nezhukumatathil, Poetry; Jo-Ann Mapson, Fiction. Entry fee: $ 15. Deadline:?December 15, 2012. Submit 1 story or up to 3 poems to: Writing Contest (indicate Fiction or Poetry), Saranac Review, Dept. of English, SUNY Plattsburgh, Plattsburgh, N.Y. 12901. Guidelines:?http://research.plattsburgh.edu/saranacreview. |
http://www.everywritersresource.com/literarymagazines/saranac-review/
Fiction
literary magazine
Literary magazine in Print
New and Interesting
Online Submissions
Print magazine/Online Submissions
S
Name: Saranac ReviewTwitter:Facebook: http://www.facebook.com/pages/Saranac-Review-SR/185008924919632Website: http://research.plattsburgh.edu/saranacreview/Editors Name: J.L. TorresPrint publication?: YesMailing Address:: Saranac Review Dept of English?SUNY Plattsburgh?Plattsburgh, N.Y. 12901Email: saranacreview@plattsburgh.eduCirculation: 500Submission Guidelines URL: http://research.plattsburgh.edu/saranacreview/submissions.htmlApprox. Response Time?: 4-6 monthsHow often do you publish?: AnnualYear Founded?: 2004Do you take online submissions?: NoInformation about your publication: The Saranac Review was born in 2004 out of four writers' vision to open a space for the celebration of...
Every
Writer
votenewmusic@yahoo.com
Administrator
I am the editor/owner of EWR, a writer, a publisher, and a teacher.
Literary Magazines