Southern California Review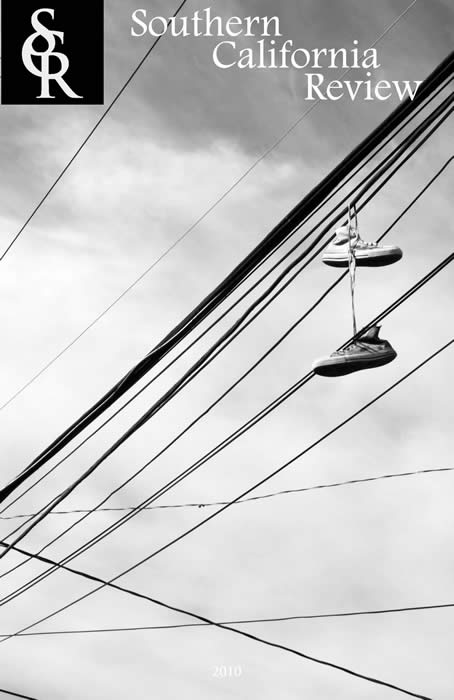 | | |
| --- | --- |
| Magazine Name: | Southern California Review |
| Website: | |
| Twitter: | @SoCalReview |
| Facebook: | http://www.facebook.com/pages/Southern-California-Review/24630543044 |
| Editor: | Nicole Antonio, Editor-in-Chief; Allison Doyle, Managing Editor |
| Print Magazine? | Yes |
| Mailing Address: | Attn: Genre Editor Southern California Review Master of Professional Writing 3501 Trousdale Parkway Mark Taper Hall, THH 355JUniversity of Southern CaliforniaLos Angeles, CA 90089-0355 |
| Email: | scr@college.usc.edu |
| Circulation: | |
| Submission Guidelines: | http://dornsife.usc.edu/mpw/experience/scrsubmissionguidelines.cfm |
| Approximate Response Time | 3-5 months |
| Publishes: | Yearly, print |
| Year Founded: | 1983 |
| Online Submissions? | Yes |
| Information about your publication: | Southern California Review is the student-run literary journal of the Master of Professional Writing Program at the University of Southern California. We have been publishing fiction and poetry since 1982 and now also accept submissions of creative nonfiction, short dramatic forms, and artwork/photography. Printed annually with original cover artwork, every issue contains exciting work by both emerging and established authors.? For more information, please visit us at http://www.usc.edu/scr. |
| What type of submissions you are looking for: | This year, the Southern California Review (SCR) is compiling an issue with the theme of DYSFUNCTION. We're?looking for pieces that delve into the dirt and humor of misfit relationships, families that make Little Miss Sunshine look like a Wonder Bread commercial, workplace politics in Dilbert-esque offices, and other creative interpretations of the theme. Fiction, poetry, nonfiction, short stage/screenplays, and artwork/photography can be submitted online at http://socalreview.submishmash.com/submit or via USPS to the following address:?? Attn: [Genre] Editor 3501 Trousdale Parkway Mark Taper Hall, THH 355J University of Southern California Los Angeles, CA 90089-0355 |
http://www.everywritersresource.com/literarymagazines/southern-california-review/
Art
Fiction
literary magazine
Literary magazine in Print
New and Interesting
Non-fiction
Online Submissions
Poetry
Print magazine/Online Submissions
S
University Press
Magazine Name: Southern California Review Website: Twitter: @SoCalReview Facebook: http://www.facebook.com/pages/Southern-California-Review/24630543044 Editor: Nicole Antonio, Editor-in-Chief; Allison Doyle, Managing Editor Print Magazine? Yes Mailing Address: Attn: Genre Editor Southern California Review Master of Professional Writing 3501 Trousdale Parkway Mark Taper Hall, THH 355JUniversity of Southern CaliforniaLos Angeles, CA 90089-0355 Email: scr@college.usc.edu Circulation: Submission Guidelines: http://dornsife.usc.edu/mpw/experience/scrsubmissionguidelines.cfm Approximate Response Time 3-5 months Publishes: Yearly, print Year Founded: 1983 Online Submissions? Yes Information about your publication: Southern California Review is the...
Every
Writer
votenewmusic@yahoo.com
Administrator
I am the editor/owner of EWR, a writer, a publisher, and a teacher.
Literary Magazines