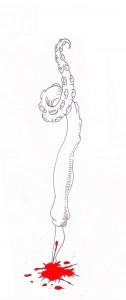 Magazine Name:
Splash of Red
Website:

www.splashofred.net/

Editor:
Dylan Emerick-Brown
Mailing Address:
Email:

splashofred@gmail.com

Circulation:
Submission Guidelines:

http://splashofred.squarespace.com/submissions/

Approximate Response Time
Less than 3 weeks
Publishes:
As good work comes in, good work gets published
Year Founded:
2009
Online Submissions?
Yes
Information about your publication:
In case you were wondering, our title comes from these three inspirations: 1) the infamous

red ink

in draft after draft to get the best quality writing, 2) the blood and passion that goes into only the most skillfully crafted art, and 3) great work stands out just like a splash of red. Splash of Red was created in 2009 by founder and editor-in-chief, Dylan Emerick-Brown. This literary blog was born out of necessity. Asbury Park's literary and arts scene has been booming and only its own literary arts magazine will do. It is online so that it is free to everyone and anyone can see it anytime.
What type of submissions you are looking for:
Our mission is to present our readers with literary perspectives on the world we all live in through the lives we cannot ourselves experience. By "literary" we refer to a professional level of expression, whatever that may be.