Surreal Grotesque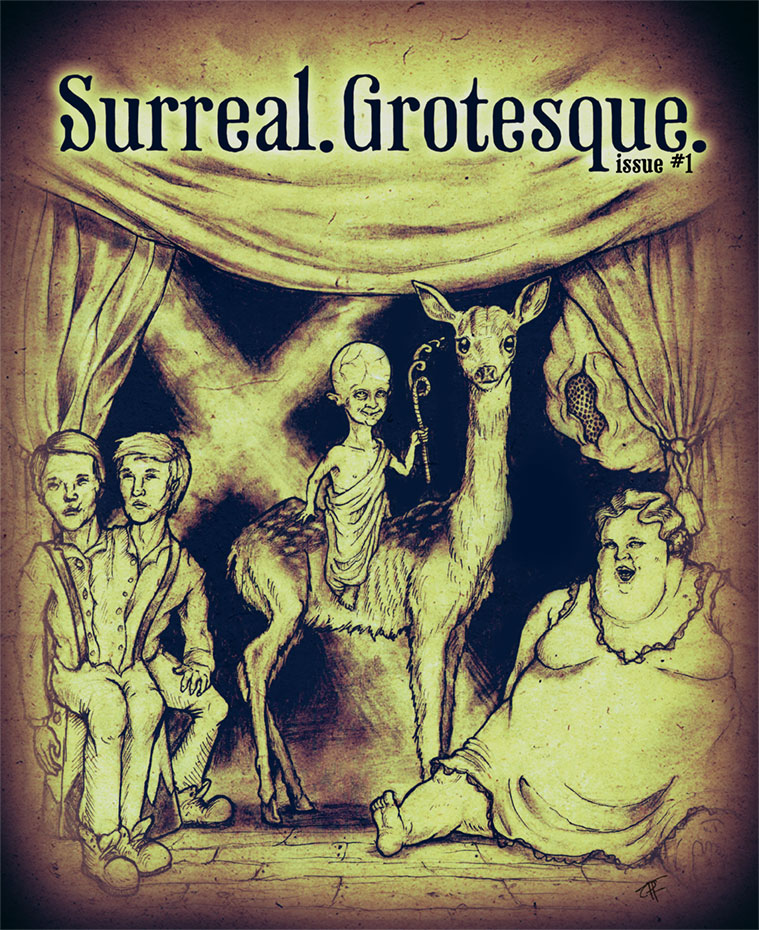 | | |
| --- | --- |
| Magazine Name: | Surreal Grotesque |
| Twitter: | RealGrotesque |
| Facebook: | |
| Website: | DEFUNCT |
| Editors Name: | Daniel Gonzales |
| Print publication?: | No |
| Mailing Address:: | Surreal Grotesque Magazine c/o Daniel Gonzales1894 SE Sedgwick Road, Suite 1-207 Port Orchard, WA 98367 |
| Email: | dangrn77@hotmail.com |
| Circulation: | 2000+ |
| Submission Guidelines URL: | |
| Approx. Response Time?: | 2 weeks to a month |
| How often do you publish?: | monthly |
| Year Founded?: | 2012 |
| Do you take online submissions?: | Yes |
| Information about your publication: | Surreal Grotesque is a magazine for readers of dark fantasy, horror, sci-fi and bizarro writing. It also features artists and up and coming writers, book reviews, opinion pieces, etc. |
| What type of submissions are you looking for?: | Horror/dark fantasy/cyberpunk-type scifi. Future themes include: sex/death (incubus and succubus creatures), mutations/mutilations (actual or imagined) or anything freaky, deranged, twisted and bizarre as long as it is well written. 500-1500 words max. |
| Tell us about upcoming events or contests: | In August the Incubus/Succubus contest, best story wins 25 dollar amazon gift card. Male or female sexual demon. |
http://www.everywritersresource.com/literarymagazines/surreal-grotesque/
Defunct
Magazine Name: Surreal Grotesque Twitter: RealGrotesque Facebook: Website: DEFUNCT Editors Name: Daniel Gonzales Print publication?: No Mailing Address:: Surreal Grotesque Magazine c/o Daniel Gonzales1894 SE Sedgwick Road, Suite 1-207 Port Orchard, WA 98367 Email: dangrn77@hotmail.com Circulation: 2000+ Submission Guidelines URL: Approx. Response Time?: 2 weeks to a month How often do you publish?: monthly Year Founded?: 2012 Do you take...
Every
Writer
votenewmusic@yahoo.com
Administrator
I am the editor/owner of EWR, a writer, a publisher, and a teacher.
Literary Magazines