The Horror Zine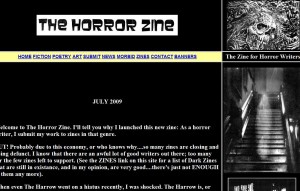 Magazine Name:

The Horror

Zine
Website:

http://www.thehorrorzine.com

Editor:
Jeani Rector
Mailing Address:
Email:

thehorrorzine@gmail.com

Circulation:
new zine
Submission Guidelines:
http://www.thehorrorzine.com
Approximate Response Time
2 weeks
Publishes:
monthly
Year Founded:
2009
Online Submissions?
Yes
Information about your publication:
A brand new online zine which is accepting short story, dark poetry, and dark art submissions. Please see Submission Guidelines for details.

www.thehorrorzine.com

What type of submissions you are looking for:
Horror genre. Dark short stories, poetry, and art. No splatter-punk, erotica, or child abuse. Please see the Submission Guidelines for details. www.thehorrorzine.com
http://www.everywritersresource.com/literarymagazines/the-horror-zine/
Art
H
Horror
Online Literary Magazine
Online Submissions
Poetry
Magazine Name: The Horror Zine Website: http://www.thehorrorzine.com Editor: Jeani Rector Mailing Address: Email: thehorrorzine@gmail.com Circulation: new zine Submission Guidelines: http://www.thehorrorzine.com Approximate Response Time 2 weeks Publishes: monthly Year Founded: 2009 Online Submissions? Yes Information about your publication: A brand new online zine which is accepting short story, dark poetry, and dark art submissions. Please see Submission Guidelines for details. www.thehorrorzine.com What type of submissions you are looking for: Horror genre. Dark short stories,...
Every
Writer
votenewmusic@yahoo.com
Administrator
I am the editor/owner of EWR, a writer, a publisher, and a teacher.
Literary Magazines