The Madison Review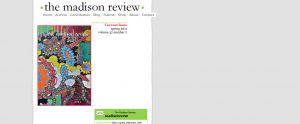 | | |
| --- | --- |
| Magazine Name: | The Madison Review |
| Website: | http://www.english.wisc.edu/madisonreview |
| Twitter: | http://twitter.com/#!/madisonrevw |
| Facebook: | http://www.facebook.com/pages/The-Madison-Review/142943238057 |
| Editor: | Anna Wehrwein; Joe Malone; Alex Konrad; Joyce Edwards |
| Print Magazine? | Yes |
| Mailing Address: | University of Wisconsin-MadisonDepartment of English 600 N. Park Street 6193 Helen C. White HallMadison, WI 53706 |
| Email: | madisonrevw@gmail.com |
| Circulation: | 200 |
| Submission Guidelines: | http://madisonreview.submishmash.com/submit |
| Approximate Response Time | 1-3 months |
| Publishes: | semiannually (December; May) |
| Year Founded: | 1970s |
| Online Submissions? | Yes |
| Information about your publication: | The Madison Review is an literary arts journal published through the University of Wisconsin-Madison. Published semiannually, each issue of The Madison Review contains previously unpublished fiction, poetry, and art as well as interviews with well-known writers. Contributors to the Review have included I.B. Singer, Stephen Dunn, Lisel Mueller, May Sarton, Charles Baxter, Roberto Fernandez, and C.K. Williams. The Madison Review has also had the privilege of interviewing such literary figures as Bret Easton Ellis, Chuck Palahniuk, David Sedaris, Lorrie Moore, and Dean Young. Founded in the early 1970s by students from the university's creative writing program, The Madison Review remains a student-run journal to this day. |
| What type of submissions you are looking for: | Unpublished fiction, poetry, and art that are polished, ambitious, and mature with a strong and new voice! |
| Information on Contests: | PHYLLIS SMART-YOUNG PRIZE IN POETRY & CHRIS O'MALLEY PRIZE IN FICTION The Madison Review annually hosts the Phyllis Smart-Young Prize in Poetry and the Chris O'Malley Prize in Fiction. The finest unpublished short story and triad of unpublished poems are awarded $1,000 and publication in the fall issue of The Madison Review! Submissions acceptedDecember 1st? – February 1stPlease visit our website for more information and submission guidelines:www.english.wisc.edu/madisonreview |
http://www.everywritersresource.com/literarymagazines/the-madison-review/
Contests
Fiction
literary magazine
Literary magazine in Print
New and Interesting
Online Submissions
Poetry
Print magazine/Online Submissions
University Press
Magazine Name: The Madison Review Website: http://www.english.wisc.edu/madisonreview Twitter: http://twitter.com/#!/madisonrevw Facebook: http://www.facebook.com/pages/The-Madison-Review/142943238057 Editor: Anna Wehrwein; Joe Malone; Alex Konrad; Joyce Edwards Print Magazine? Yes Mailing Address: University of Wisconsin-MadisonDepartment of English 600 N. Park Street 6193 Helen C. White HallMadison, WI 53706 Email: madisonrevw@gmail.com Circulation: 200 Submission Guidelines: http://madisonreview.submishmash.com/submit Approximate Response Time 1-3 months Publishes: semiannually (December; May) Year Founded: 1970s Online Submissions? Yes Information about your publication: The Madison Review is an literary arts journal published through the...
Every
Writer
votenewmusic@yahoo.com
Administrator
I am the editor/owner of EWR, a writer, a publisher, and a teacher.
Literary Magazines