The Quotable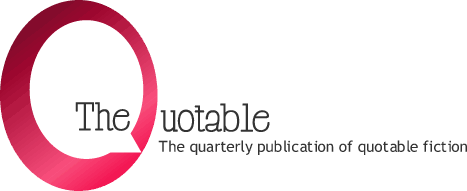 Magazine Name:
The Quotable
Website:

http://www.thequotablelit.com/

Editor:
Eimile Denizer, Lisa Heins, Leslye PJ Reaves, Mary Wilt
Print Magazine?
Yes
Mailing Address:

520 W. 21st St. #230 Norfolk, VA 23517

Email:

editor@theqotablelit.com

Circulation:
?
Submission Guidelines:

http://thequotablelit.com/submissions

Approximate Response Time
4 – 8 weeks
Publishes:
quarterly
Year Founded:
2010
Online Submissions?
Yes
Information about your publication:
The Quotable is a new

quarterly literary magazine

showcasing tomorrow's quote-worthy authors. Each issue will appear online and in print and feature short stories and artwork based on a specific theme and quote.
What type of submissions you are looking for:
We're seeking

flash fiction

, short fiction, creative non-fiction and original art & photography.
Information on Contests:
Each month respond to the posted writing prompt with a micro entry of 100 words or less. Winners are entered to win a free print copy of the magazine.

http://thequotablelit.com/writing-prompts
http://www.everywritersresource.com/literarymagazines/the-quotable/
Flash Fiction
literary magazine
Literary magazine in Print
New and Interesting
Non-fiction
Online Submissions
Print magazine/Online Submissions
Q
Magazine Name: The Quotable Website: http://www.thequotablelit.com/ Editor: Eimile Denizer, Lisa Heins, Leslye PJ Reaves, Mary Wilt Print Magazine? Yes Mailing Address: 520 W. 21st St. #230 Norfolk, VA 23517 Email: editor@theqotablelit.com Circulation: ? Submission Guidelines: http://thequotablelit.com/submissions Approximate Response Time 4 - 8 weeks Publishes: quarterly Year Founded: 2010 Online Submissions? Yes Information about your publication: The Quotable is a new quarterly literary magazine showcasing tomorrow's quote-worthy authors. Each issue will appear online and in...
Every
Writer
votenewmusic@yahoo.com
Administrator
I am the editor/owner of EWR, a writer, a publisher, and a teacher.
Literary Magazines