BOA Editions, Ltd.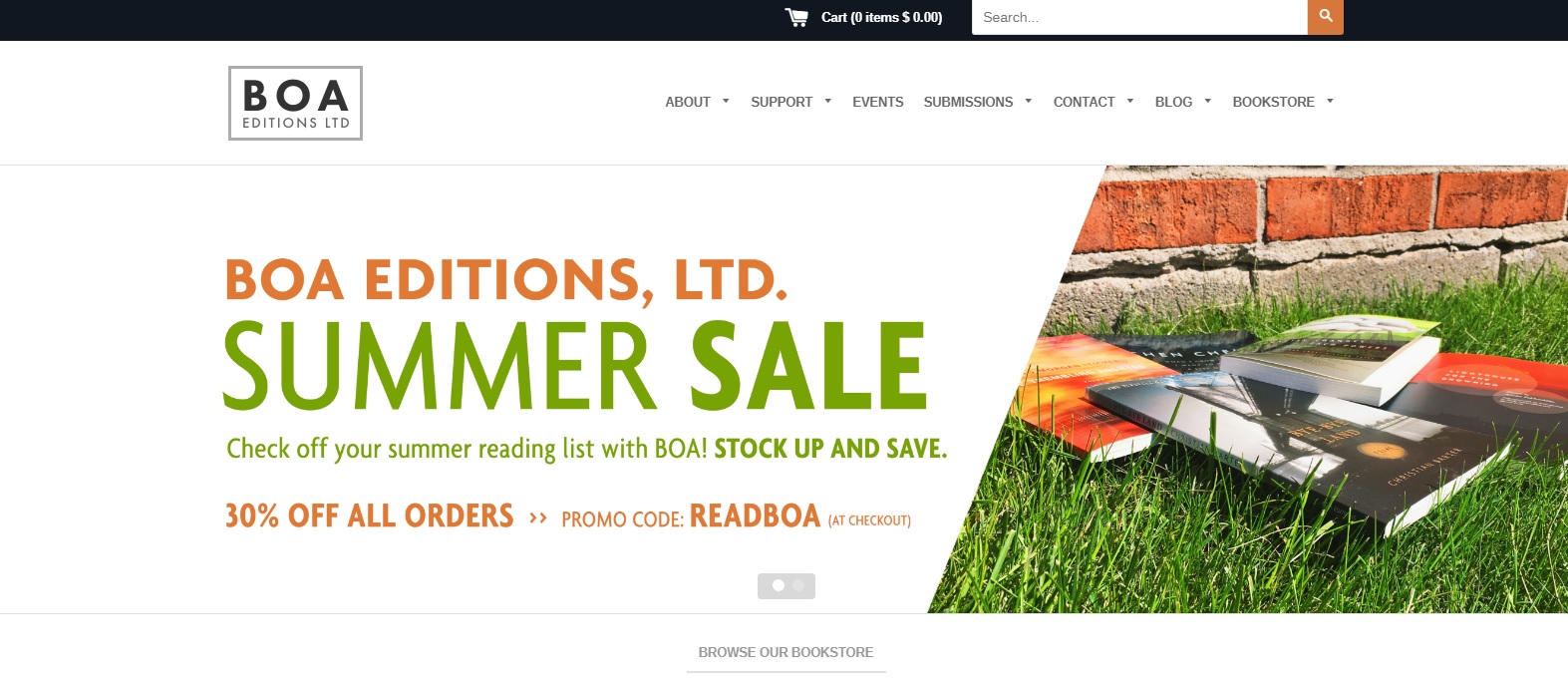 Website:
From the Publisher
BOA Editions, Ltd., a not-for-profit publisher of poetry and other literary works, fosters readership and appreciation of contemporary literature. By identifying, cultivating, and publishing both new and established poets and selecting authors of unique literary talent, BOA brings high quality literature to the public. Support for this effort comes from the sale of its publications, grant funding, and private donations.
Submissions
BOA Editions, Ltd. currently publishes literary work as part of several different series: the A. Poulin, Jr. Poetry Contest honors and publishes a poet's first book; the American Poets Continuum Series publishes the work of established poets; The American Reader Series publishes literary fiction and the Lannan Translation Series covers international poets with the bilingual publication of a poet's work. They run serveral contests all with different guidelines.
Upcoming
17th annual A. Poulin, Jr. Poetry Prize August 1 – November 30, 2017
Judge: D. A. Powell
Winner Receives:
Book publication by BOA Editions, Ltd. in spring 2019
$1,000 honorarium
The A. Poulin, Jr. Poetry Prize is awarded to honor a poet's first book, while also honoring the late founder of BOA Editions, Ltd., a not-for-profit publishing house of poetry and poetry in translation.
Information
Editor: Thom Ward, Peter Conners
Submission Guidelines:
Approximate Response Time
Publishes:
Year Founded: 1976
Contact
Mailing Address: 250 N. Goodman Street Suite 306 Rochester, NY 14607
Email:
Circulation:
BOA Editions, Ltd.
Average rating:
1 reviews
Dec 16, 2017
BOA
BOA is a standard in poetry publishing. They have been doing it right for a long time. This is a great company to publish with.