Alfresco Press
Website:
http://www.alfrescopress.com/index.html
Status: NOT PUBLISHING
From the publisher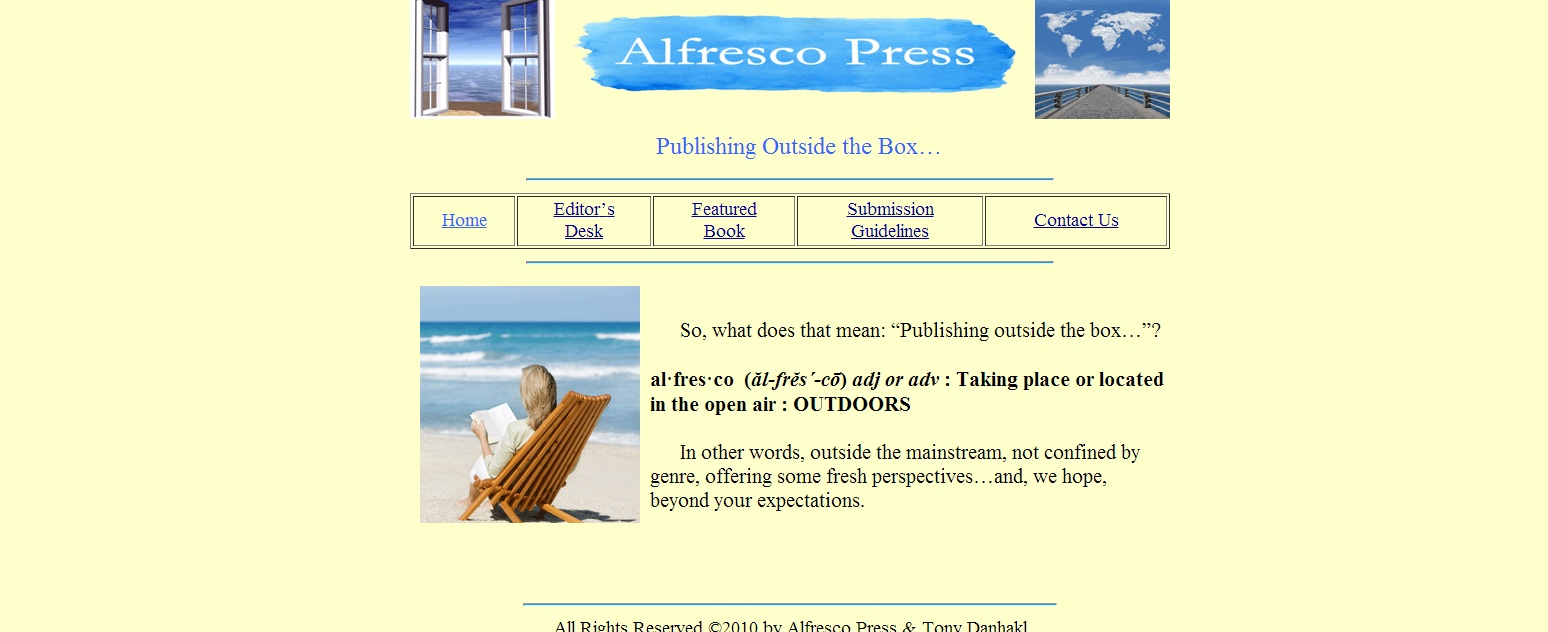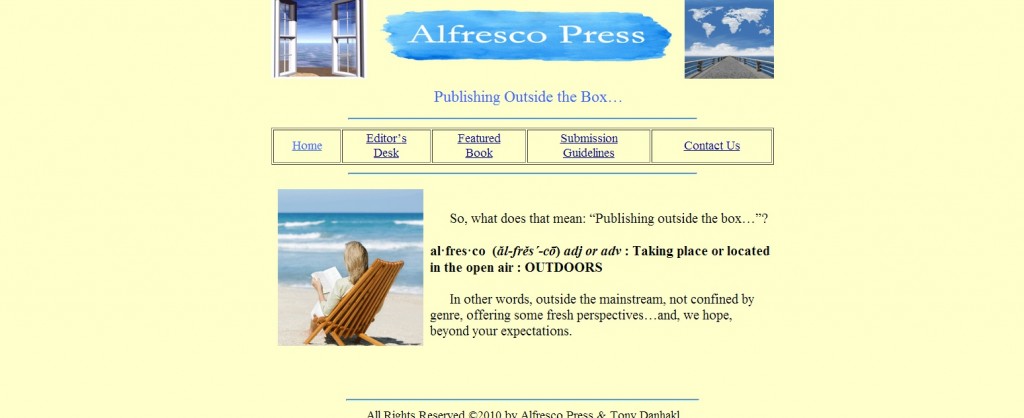 Alfresco Press — Publishing outside the box…?: an independent publishing company specializing in writing outside the mainstream, unconfined by genre, offering some fresh perspectives.
Submissions
We only accept original material which has never been published elsewhere, including on the web. Simultaneous submissions are okay with us.
Our natural predilection is for fiction, either novels or short story collections. This doesn?t mean we?re strictly averse to nonfiction submissions, merely that they ought to be decidedly other than mainstream fare. The best way to gauge our perspective is to read what we publish.
Our tastes are somewhat eclectic, our views open-minded, and our editorial policies rather liberal. We?re interested in bringing the reading public something fresher than what?s normally stocked on the shelves. This publishing venture was motivated by belief in the lingering power of the written word, its ability to be provocative or transformative, to alter or to heal, and by what was perceived as a need for an alternative outlet.
We regard narrow genre classifications as marketing ploys run amok. A writer?s ability to tell a story well is much more important than figuring out what shelf to put the book on. To give you some clues, however, we tend to prefer what was once called speculative fiction (what if?? stories, for lack of a better description). Also ma! gic real ism, alternative history, steam punk, and the like. These options seem to leave more elbow room and scope for provocative ideas.
Information on Suggestions on Submitting:
We are currently closed to submissions. Otherwise, no advance query is necessary.
Information
Editor: Tony Danhakl
Circulation: 2-3
Submission Guidelines: 
Approximate Response Time 3-4 weeks
Publishes: twice a year
Year Founded: 2010
Online Submissions? Yes
Contact
Mailing Address: PO Box 7830 Seminole, Florida 33775
Email: alfrescopress@tampabay.rr.com