Jan-Carol Publishing, INC
Website
http://www.jancarolpublishing.com
From the Publisher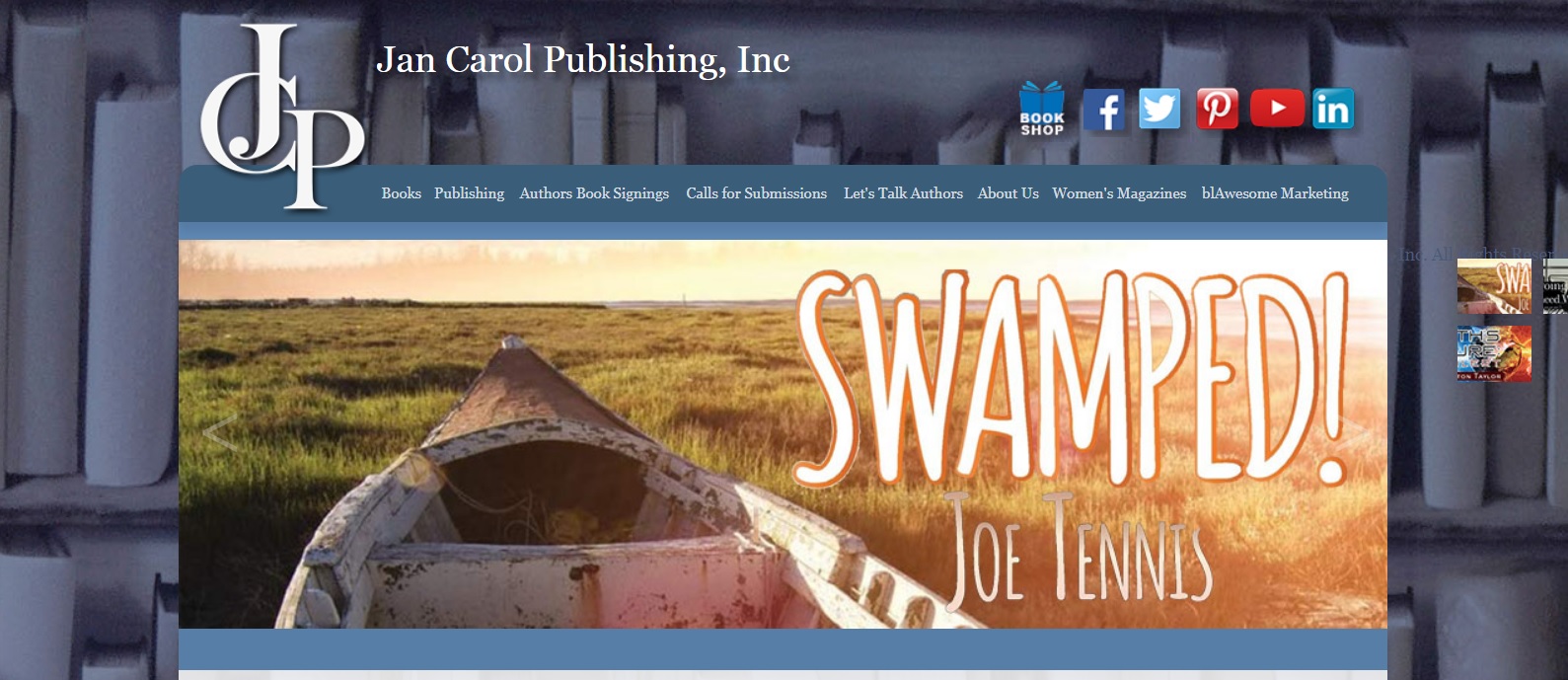 Jan-Carol Publishing Inc. (JCP) expanded by acquiring Mountain Girl Press, Little Creek Books, and Express Editions, and RoseHeart Publishing. In our acquisitions, we expanded our focus and broadened our resources. Our publishing includes many genres. JCP also publishes a 'free' monthly women's magazine in print and online. This cross-promotion works well with our US authors to international authors. Our magazine celebrates 15 years of being in business and in 2019, JCP will be celebrating six years of book publishing. Each year
, JCP is proud to announce continual growth in the representation of books as well as book sales.
Jan-Carol Publishing, INC (JCP) is a progressive small press publisher with a competitive edge and promotional blend of self-publishing and traditional publishing. JCP is not defined as a vanity publisher. We have a high standard in our selection of our authors, and our end product must represent that level of professionalism. Our desire is to work side by side with our authors from beginning to completion of the publication with assistance and direction, and our authors are an integrated part of the process.
We provide instruction and guidance through the complexities of the publishing landscapes. We have published authors with much success. Many of our authors have published more than one book and some with a series of books. Our commitment to our authors and their books does not end once the book is printed. We have in-house resources to promote and work along with our authors.
We have different imprints for our different genres. Those imprints include Mountain Girl Press ~ Little Creek Books ~ Express Editions ~ DigiStyle ~ Broken Crow Ridge ~ RoseHeart Publishing ~ Fiery Night ~ Skippy Creek.
Our in-house resources include providing press releases, book promotion, global online distribution and marketing tailored to the specific market for your book. We involved the author in determining the market for their book. JCP believes that the author involvement is a critical element to the success of their book(s.).
Submissions
We are looking for adult contemporary, fiction adult reading, young adult reading for the 8- 12 age group, and politically themed children's books. We also look at other types of submissions, including short stories, Appalachian themed stories, historical fiction, and self-help books. We offer a book contract each year to authors who submit a manuscript based on the requirements found on our website. This contract is a full traditional contract, but the author does retain ownership of their works. Please visit our website for full details.
Believe and Achieve /Award Contest
Snowy Trails of Appalachia
Short Story Collection
Our In-House Short Story Collection
Our current in-house book is scheduled for August 2019 publication date. Entitled Snowy Trails of Appalachia, the submission guidelines are as follows:
The theme for Snowy Trails of Appalachia is winter of Christmas themed stories about strong women. There should be a strong sense of place, i.e., Appalachia. Stories must be fiction.
Submission fee per story is $10. You may call the office at 423.926.9983 with a credit card number or mail a check to JCP at P.O. Box 701, Johnson City, TN, 37605.
A minimum of 1500 words and a maximum of 3500 words per story.
The deadline for submissions is May 31st, 2019.
Information
What forms of writing are you looking for? Fiction, Poetry, Short Stories
Editors Name Janie C Jessee
Year Founded 2003
Does the Press Accept: Online Submissions, Unsolicited Submissions
Ebook or Print? Both
Do your charge for any services? No
Submission Guideline URL http://www.jancarolpublishing.com
Contact
Email submissions@jancarolpublishing.com
Address PO Box 701
3119 Bristol Hwy Suite 217 (37601)
Johnson City, TN 37605
United States of America
Facebook Facebook Page
Twitter
GooglePlus
Category
Book Publishing Company, Chapbook Publisher, Children\'s Book Publishing Company, Crime Book Publishign Comapany, Contests, Drama Book Publishing Comapany, Ebook Publishing Company, Erotic Book Publishing Company, Fantasy Book Publishing Company, Garden Book Publishing Company, Historical Book Publishing Company, Independent Book Publishing Company, Mystery Book Publisher, Political Book Publisher, Religous, Romance Book Publishing Company, Small Publisher, Spiritual Book Publisher, Suspense, Taking Submissions, Teen Book Publishing, Thriller