Children's Book Publishers: A Growing list of over 100!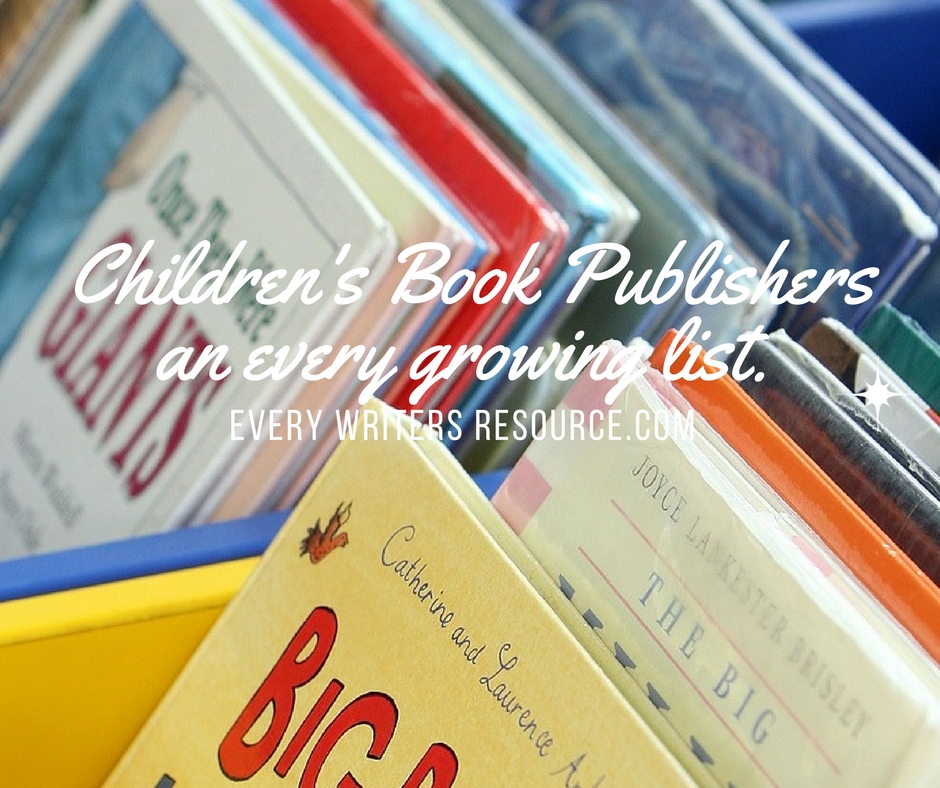 Children's Book Publishers: A Growing list of over 100!
Here is our list of Children's Book Publishers: A Growing list of over 100!. We are still building our book list. Keep checking back for more. If you are a publisher, click here, to list with us. We are expanding this list, as you can see. We are always looking for more publishers. Also, if you are here we know that you are looking to publish a book (most likely). We hope you find a publishers here. 
Children's book publishers are very popular these days. Make sure you do your research. This list is to direct you to a publishers, but we cannot always verify what the quality of the publisher might be. Publishing has always been a risky business, and just because we live in an age of the internet doesn't mean that anything thing has changed when it comes to publishing.
We you have spent the time and energy to write a children's book, you have to know the value of your product. We wanted to add here a few tips and pointers to help you in your publishing journey.
There are some simple things you should do before you publish your book. Here are just a few things to consider. We may add more later, but we want to give you some things to think about.
1. Make sure you research the publisher you are looking at to publish your book. There are 100s of children's book publishers on the web, and you should know that many large publishing houses do not take unsolicited books. They want an agent to contact them. These publishers, generally the large publishers, are looking for a vetted book. This does not mean you have to have an agent, many successful authors publish without one, but it is something to consider.
2. Make sure the publisher publishes children's book that are like your book. You can look up sales on publishers. See what they are selling the most. If a publisher is selling millions of DIY books, but they are publishing children's books on the side, your book may not get the attention it deserves.
3. Children's book publishing tends to be more difficult than other types of publishing because of the large amount and printed pictures. The production cost can be very high, so make sure the publisher you go with has some experience in publishing children's books.
4. Ask an author that has published with the publisher you are looking at. Many authors have websites, and it is a very good idea to contact an author who has already published with the publisher. Then simply ask about their experience. Is the publisher respectable?
5. In today's world publishing a book isn't always the difficult part. Selling a book, promoting a book, is generally what makes a book successful, so do some research and see if the publisher does marketing. Do they sell a lot of books? Will your book be in book stores?
6. Is the publisher an eBook publishers only? Do they publish a mix of different platforms? Make sure that the way the publisher is publishing books gives your book the best chance for success.
7. Do not pay to have your book read. Publishers that sell a lot of books will read your book for free because they will make money off the book, not the author.
8. Ask about copies. Ask about book readings. Will the publisher set up readings and give you copies?
9. Know that small book publishing is much different than large book publishing. If you are having trouble getting your book published by a large publishing house, you may look at a smaller publishers so you can get your book published, and then sign with an agent.
10. Keep trying. Send your book to many researched publishers. You don't have to go with the first publishing house that says yes. Always look for the best deal.
11. If you don't feel comfortable with the publisher, or if you feel that they are in any way unrepeatable or maybe just not the place for you, find a different publisher.
12. As for your writing, keep reading. Even when you have a book finished, and you are shopping it to publishers, keep writing, write another and another. Do not stop.
If you have a question about the information listed here, please contact the publisher. If you have a general question about the listing, please contact our admin. If you are looking to publish works with Children's Books, or publishers concerned with a children's audience, these listings may help you.
Children's book publishers will always have a special place on our site. We were one of the first sites to list children's publishers, and it's one of our favorite listings. It is a challenge for anyone to publish a book, and those publishing children's book have, I believe, even a more difficult time. The production of these books can be costly. We hope these listings help you, and I hope that you find the publisher that will help you achieve great success.
Please remember you can visit our homepage and find articles on writing, publishing, and more. We also have more book publisher's listings in many different categories. Lastly, we have a literary magazines sites, if you are looking to publish your shorter works.
As always please do your research. It is important to beware of predatory publishing practices. You should research all publishers before submitting your work. If you need help or have questions about these issues or best practices for publishing, please contact Every Writer. We are always happy to help you. As always we want the best for our writers.
Below starts our full listing of publishers. We will be adding descriptions to this list in the future. We wanted to get it out to you as so as we could.  The first set of listings and descriptions were gathered by the editors here at Every Writer. The second section was submitted by the publishers. They are links back to our site that gives full listings of details about each publisher. If you are a publisher and would like to submit your site, please do so at our submissions page. 
Advance Publishing is a publisher of educational children's book.
Albert Whitman & company have been publishing children's book since 1919. Accouding to their site they publish about 40 titles per year and have a range of books that they are interested in seeing from authors, from picture books to young adult.
Ann Arbor Publishers publishes a wide range of titles. They do publishes children's book with a focus on special needs.
Annic Press publishing children's book for ages 6 months to young adult. They are "committed to publishing Canadian authors. You can find submission guidelines on their site.
A full publisher of Picture books for children. Started by 2 mothers who wanted to see more quality books in the world.
"Bellerophon Books publishes very inexpensive books of Ancient History, American History, Archeology, Native American Art and History, California History, Natural History, Music History, English Literature, and much more."
They have been publishing for over 50 years. They are a leader in Christian fiction, plus over 75 new titles in fiction and nonfiction.
Beyond Words has been publishing since 1983. They have best-selling titles and are in over 3000 book stores.
"Bloomsbury Publishing is a leading independent publishing house established in 1986. It has companies in London, New York, Sydney and New Delhi."
They publish publish Caribbean folk tales and proverbs.
"Boyds Mills Press publishes books that enlighten and entertain, reaching children primarily through bookstores, libraries, and schools."
Publishes creative children's book, and focus on exploring the creative process.
A wonderful publisher looking for your children's book publisher. They have been publishing since 1992. They publish 100s of books and ebooks.
Gryphon House

Tradewind Books
ZitrO Publications is a full-service publishing company, offering all publishing/production services including, but not limited to, typing,