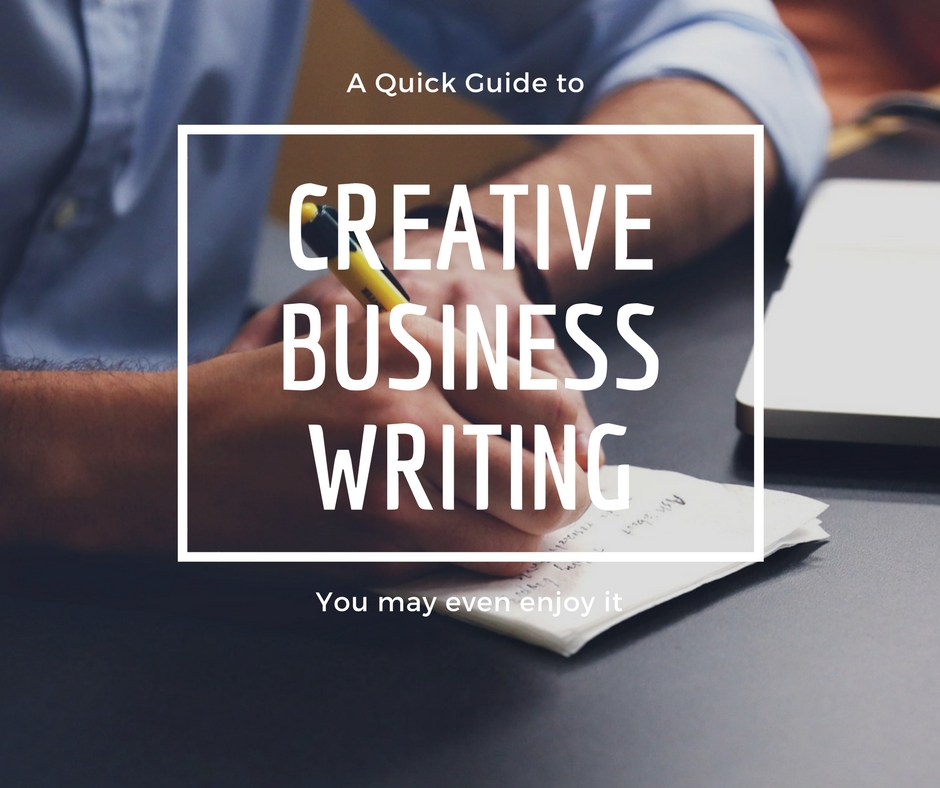 Creative Business Writing
In 2004, The National Commission of Writing published a report called Writing: A Ticket to Work… Or a Ticket Out. It showed that blue chip businesses (the ones that sell high-quality products and services) were spending $3.1 billion annually on remedial writing training. Most of this budget wasn't spent on training new hires. It was for the improvement of the skills of current employees.
A lot has changed since 2004, but one thing remained certain: employees from all branches of business still need to write. The communication in the business world is dominated by emails. Plus, the employees and their bosses have to write reports, presentations, and proposals. Business writing is a necessary skill during the hiring process itself.
Real writers have an inexplicable aversion towards business writing. They perceive it as dry, overly structured content that has nothing to do with creativity. You're wrong. There's tons of space for creativity in business writing. Still, if you want to give it new life, you'll have to know the limits. As you keep exploring business writing, you might even start liking it.
We'll give you few tips to guide you through creative business writing.
How to Make Business Writing Creative
Give Specific Examples
Abstract concepts have no place in creative business writing. Instead of writing definitions, explain your point through examples. Consider these examples:
"In order to achieve sustainable revenue growth, we need to boost our sales and marketing capacity."
"If we don't think of a more creative marketing campaign, we won't boost the sales. We already lost Dell because we weren't creative enough. We absolutely need a change."
The second example sounds much better, right? It sends a clear message to the recipients.
Cut Through the Chase
People in business are quite practical. "The purpose of the report I was required to submit was…" No one wants to read an email that starts like that. Use simple sentences and active words.
Appeal to Intellect, But Emotions as Well
As a writer, you know you should appeal to the emotions of the reader. The term business writing may confuse you. Yes, you're addressing business people and you should appeal to their intellect. However, you have to awaken some emotion, too.
Here are two examples:
"According to our records, we are wasting 15% of our potential conversions because we are not providing competitive services."
"We're losing conversions. That means we're losing money. It's not only about the money, though. It's about the growth of our business, and that's the goal that connects us all."
The second example uses more vivid language. It makes the reader understand why this is important. Business writing should not be dry and lifeless.
Add Some Personality
Business reports, email messages, and business presentations leave space for personality. Although they impose a certain structure, the content should reflect your unique voice. When someone gets one of your emails, they should immediately notice your unique style.
This doesn't mean you should go crazy with the bolds, italics, capitalization and fonts. Stick to clean structure. You should never force your style. Relaxed authenticity is the impression you're aiming for.
Be Brief and Specific
Many people confuse creative writing with big words. They find the most complex words in the dictionary and use them. That's far from appealing, especially when we're talking about business writing. Don't use corporate jargon! Don't go with the big words! Just say what you need to say in the simplest way possible.
We all prefer an email with few clear instructions than an endless text where we can't find the instructions. Get in the reader's shoes and give them what they expect: a text they understand.
Business content shouldn't lack a human voice. It shouldn't be meh. It's about time for us writers to bring it to life.
Bio: Tony Picekatto is a writer working for TopBritishEssay. Her main interest is academic writing, but she continues exploring other areas of interest. In between all that writing, she still finds time for her dog.