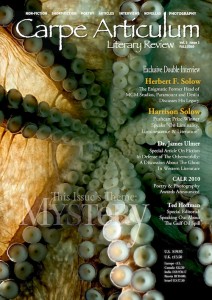 Magazine Name:
Carpe Articulum

Literary Review

Website:
Editor:
Hadassah Broscova
Print Magazine?
Yes
Mailing Address:
P.O.Box 409

Lake Oswego, OR, USA 97034

Email:

Editor-in-Chief@CarpeArticulum.com

Circulation:
29,511 world wide
Submission Guidelines:

http://www.carpearticulum.com/submissions/

Approximate Response Time
3 days for complimentary e-zine copy, publication as soon as 6 months after submission receipt
Publishes:
Quarterly
Year Founded:
2004
Online Submissions?
Yes
Information about your publication:
CARPE ARTICULUM LITERARY REVIEW: The Journal of the Stars

The Original

cross-genre, full colour, international literary review featuring Short Fiction, Non-Fiction, Poetry, Novellas, Screenwriting and Photography. We provide over $10,000 Annually in cash award grants to emergent writers and photographers, as well as supporting young writers and their sponsoring classrooms in high school and middle schools. Moreover, each issue features a famous writer, screen actor or industry great in informative interviews to better bridge the emergent writers with the modern expectations of the industry.

Jeff Goldblum

,

George Lucas

,

Jodi Picoult

,

Nicholas Sparks

, David E. Hoffman (

Pulitzer Prize winner

) Herb Solow (former head of MGM Studios,

Desilu

and

Paramount Pictures

)

Chitra Divakaruni

, and many many more are just some of this year's guests, features and endorsers. Moreover, CALR offers a home for INTERNATIONAL voices as an under-served population, and provides

social commentary

on current events. This collector-quality, full colour, perfect bound review is available in Borders Books,

Barnes & Noble

and fine bookstores world wide. PLEASE REMOVE CURSOR FROM PAGE WHILE LOADING, this makes the pages populate more efficiently. CLICK BELOW: VOL 3, Issue 2 arpe articulum literary review (Print) ISSN 2153-5590 BIPAD# 25771 ISSN 2153-5604 ONLINE
What type of submissions you are looking for:
OPEN GENRE Non-Fiction Short Fiction Poetry Screenwriting Scripts (Best opening scene only) Youth Truth Young Writers (under 18 with guardian permission) Photography
Information on Contests:
GENERAL INFO ON UPCOMING EVENTS (Competitions) CARPE ARTICULUM Literary Review. Total awards: $10,000 and publication in our international, full colour, cross-genre print review and online E-zine! Categories: Short Fiction/Novellas: 1st, $1,250; 2nd, $300; 3rd: $100; deadline:

March 30

. Screen Writing (Best Opening Scene): 1st, $1,000; 2nd, $300; 3rd, $100; deadline:

January 7

. Poetry: 1st, $400; 2nd, $200; 3rd, $100; deadlines:

September 30

, March 30. Photography: 1st, $400; 2nd, $200; 3rd, $100; deadline: August 30. Essay/Nonfiction: 1st, $700; 2nd, $300; 3rd, $100; deadlines: January 7, August 30. $20 fee per entry. DATES ARE ANNUALLY REVOLVING. If you miss the date, it rolls over automatically for the next competition. For complete details and to submit your work, visit our Web site: www.carpearticulum.com. E-mail: editor-in-chief@carpearticulum.com. Youth Truth Special Charity Competition (under 18) SPECIAL EVENT THE YOUNG WRITER'S COMPETITION: YOUTH TRUTH (Under 18, Grades 6-12 by US standards) First Prize: $500 Second Prize: $300 Third Prize: $200 Reading fee: Free of charge Genre: Poetry or Short Fiction (under 20 pages) Due date:

February 1st

, annually Rules: 1. Entrant must be sponsored by a teacher in a

traditional high school

or

middle school classroom

. Sponsoring teacher's contact information must be included on the entry cover sheet along with entrant's parent or legal guardian's signature authorizing and releasing entry and acceptance of Carpe Articulum's Terms and Conditions as stated on the website and on behalf of the student. NO AUTHOR NAME may appear on the work itself. By entering, parties are also acknowledging the acceptance of the site's conditions and terms of service. 2. Student's parent(s) full contact information is required as well as the school attending at time of entry. Statement of the parents' and student's signed willingness and intention to use award money to furthering the student's post-high school education (either in a collegiate setting or trade schools). Teacher must acknowledge that any funds awarded will be used for the classroom and/or educational projects. 3. No single entry may be longer than 20 pages double-spaced. All other rules apply as outlined in the submissions/rules section on the website for Poetry or Short Fiction. Entries must be sent both ELECTRONICALLY as a .doc file, with the scanned signatures mentioned above, and via REGULAR MAIL. These can be sent in one package per classroom by the teacher. Submit entry electronically to: Editor-in-Chief@CarpeArticulum.com Mail entry to: Carpe Articulum Literary Review Attn: Youth Truth Writing Award P.O. Box 409 Lake Oswego, OR, USA office 97034 Please help us to continue this educational and literary cause by making a donation to Carpe Articulum. We can no longer continue the printing of this publication without community support. Thank you for your consideration!