The Broken Cassette
Website
http://www.thebrokencassette.com
From the Editor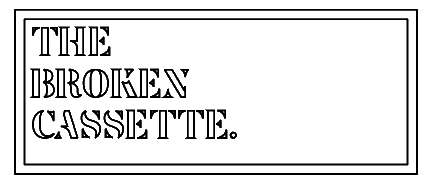 The Broken Cassette is an independent quarterly literary online magazine. It is currently based in New Delhi and welcomes any work that can be tagged as eclectic, electric, radical, or unapologetic. Born in an 18-year old's bedroom, it strives to spark conversation about unpopular and controversial topics through the use of literature, art, and writing. Each digital and print issue revolves around a particular theme unique to that issue.
TBC works to try and curate multiple points of view and encourages diversity and inclusivity. It wants to showcase bold, new voices with an edge. Currently, it functions on a submission-based system. The Broken Cassette also runs an online blog that features content free of cost and for the perusal of anyone with an internet connection.
The Broken Cassette was started as a way to celebrate our brokenness as human beings instead of denying it in a collection of verbs, nouns, lines, and scribbles. It aims to fill that brokenness with informed opinions.
With every upcoming quarterly issue, TBC accepts submissions to contact@thebrokencassette.com and accepts a number of types of articles. The submission policy and guidelines can be found in detail on the website. As of now, TBC does not pay its writers. Submissions are open all year round and multiple submissions are welcome. Every three months, new prompts are put up on the website to let the writers know exactly what TBC is looking for.
TBC publishes anyone with a fresh idea written in an unexpected way. It looks to feaure voices that can clearly express their thoughts in whatever form they wish to. TBC loves anything risqué and things that might be considered too opinionated otherwise, as long as it's in line with the magazine's vision. What The Broken Cassette doesn't appreciate, however, is ignorant, uneducated pieces that trash other cultures or individual identities.
Submissions
Microfiction, Flash Fiction, Short Story, Poetry, Art, Photography, Features, Opinions, Essays.
Information
Editors Name Nandini Goel
Print publication? Yes
Circulation
Do you take online submissions? Yes
Submission Guidelines URL https://www.thebrokencassette.com/submit/
Approx. Response Time? Two Weeks
How often do you publish? Quarterly
Year Founded? 2018
Do you pay? No
Contact
Twitter
Mailing Address:
Email contact [at] thebrokencassette.com