The New Milkman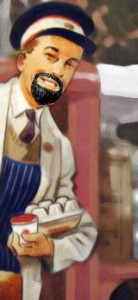 Magazine Name:
The New

Milkman

Website:
DEFUNCT
Editor:
Shawn Bowers
Mailing Address:
Email:

editor@thenewmilkman.com

Circulation:
Online only
Submission Guidelines:
Approximate Response Time
Under 2 weeks
Publishes:
Once a month
Year Founded:
2010
Online Submissions?
Yes
Information about your publication:
The New Milkman is a monthly online receptacle for short fiction or non-fiction works that have a humor-ish quality. We're based in Chicago, IL and we want you to write for us. Though we can't currently pay, we're looking to change that in the future as we begin to move into printed editions.
What type of submissions you are looking for:
Things that doesn't try too hard or take themselves too seriously. We accept written pieces, video, audio, comics, visual art…if it can be published online and it's good, we'll make it work. We don't really traffic in poetry, reviews or faux news. Those are cool, but not for us. We're sure you understand. Also, we believe strongly in the power of brevity. The shorter your piece, the quicker you can get in and out of an idea with quality results, the better.