Seen but Not Heard by Rita Crossley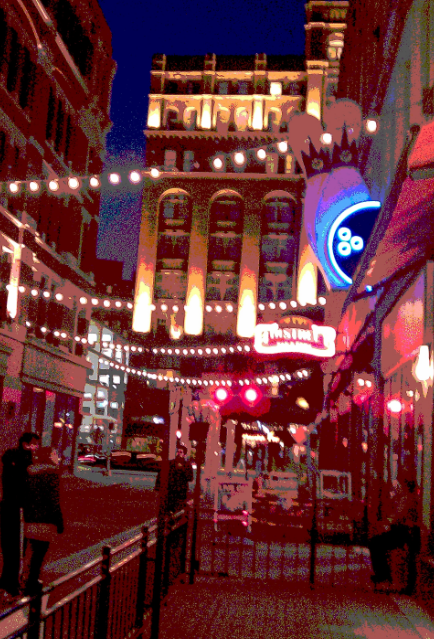 Seen but Not Heard
?by Rita Crossley
?
?
?
Four more stations to my destination. The train is packed, no separate compartments now. In those days you could choose who you sat with. No schoolchildren then with large canvas bags that knock your shoulder as they pass . . .
Three more stations . . . It is getting very warm. My mother used to let me open the window. Sometimes I would lean out, the steam from the black engine turning into water as it hit my face. That annoyed her. She would pull me back inside, a saliva-wet handkerchief rubbing the smut marks from my cheeks, the laced edge scratching my delicate skin . . .
?
Two more stations . . . The schoolchildren are quiet. Their agile fingers move swiftly over the controls of their latest hand-held electronic entertainment. Many of the adults mirror their actions as they scrutinise data and messages on their mobile phones. ?Seen but not heard.? It takes on a different meaning these days. To my generation it was the rule, now it is a preferred option . . .
?
One more station . . . I saw Bill for the first time when he came into my office with a message from his foreman. The first thing I noticed was his jet black hair, not wispy like my father?s. We met secretly at first, travelling on this same line into the city. The train was one of the new diesels. We hoped the driver would forget to put on the overhead lights in the carriage as we entered the tunnel that took us under the centre of the town. But he always remembered and a brief moment of isolation and intimacy was snatched from us . . .
?
Almost there now . . . My parents found out. ?He?s not our type; you can do so much better,? was all they said. I was young and compliant and married the boy with good prospects who lived across the road but he bruised my body each time he came home drunk . . .
?
We have arrived at my station. I make my way to the exit and stand for a brief moment on the step. I look over the heads of the receding passengers and see his mass of hair, no longer black, now white. He is waiting at the gate leaning on a walking stick. We cannot speak or shout to each other, we are too far apart, but we look into each other?s eyes regretting the forty years of separation. A love we both kept hidden beneath the pretence of the family life we had each chosen.
We meet and hold each other close. No words are needed. Seen but not heard.
###
My name is Rita Crossley. I am retired and live with my husband.
I have had several stories published in parish church magazines and The Catholic Voice of Lancaster. A factual article was recently published in a national Catholic women?s newspaper. I won 2nd prize in a short story competition in Writers? News Writing Magazine and shortlisted for another. A fantasy story that I have written has been published on Abandoned Towers Magazine website as part of their re-launch.
My writing includes a fantasy novel, a crime novella, and an anthology of mixed genre short stories, all of which I hope to eventually get published. I am now working on an historical novel.
I love writing. It becomes for me an outward sign of an inward imagination. I feel the characters coming to life within the text.