Tips and Tricks for More Productive Writing
by Jessica Mills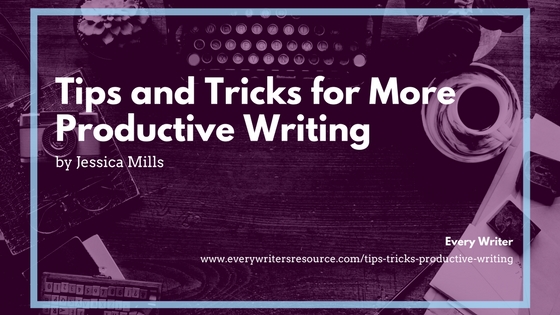 Writing has become more and more a part of our communication system, as we stay engaged with digital information regularly. Whether you are a social media marketer, website administrator, content writer, novelist or a student, good quality writing takes time, effort, and energy. Your energy! As with so many other things readily available to use at our fingertips, there are tools and advice to help you make the writing process more enjoyable, productive and even easier. Some services are free to use, or to try while others have reasonable user fees, which you may find quite valuable for your overall productivity.
Free up distractions. It may sound easy to turn off your phone, or lock yourself away in a quiet place with no interruptions, but with our busy lives, this is not always so simple. Look into tools that will help you manually. Try self-control.com which provides a time device that will turn off your browser for you. It cannot be restarted by any browser or computer reboot system. It will not disable your entire Internet, rest assured, but will allow you to select which sites to visit during your shut down. For research purposes this is invaluable. If the screen activity itself is a distraction to you, and you're looking for clean white space with no interfacing, try www.focuswriter.com. It allows you to have your mouse move to the edges of the screen, creating a less distracted workspace for your process.
For a unique approach of creating a better mind-focusing environment, there is www.ommwriter.com where a zen environment helps keep your mind focused on the current task it is performing. Students and other writers find it helpful, and there is a free version to try. A more calming theme is available for a charge.
Use help services. For the daunting task of writing academic papers or essays, consider some of the many services that have been created to ease the process. Site such as essaymama.com provides affordable help from structuring outlines, writing drafts, editing and referencing correctly. Yes, it's legal and a timesaving way of putting your thoughts and ideas to their best advantage. Not everyone is a great writer or able to craft a concise, coherent piece but many of us are bound to do it in our academic or professional undertakings.
Use style services. Do you know all the elements of Chicago Style Referencing, or MLA or APA when they are required? Paying attention to the required referencing style of an assignment can slow down your process. Skip it! Let experts help you at sites such as writinghouse.org . This online tool is a citation generator, providing assistance for free. If the content itself is your stumbling block, and the reading material associated with the project overwhelming, seek help from www.tutorsclass.com Designed for interaction with academics and professionals to converse about topics, away from the classroom with the comfort of a peer relationship. If you find yourself quite adept in some subject matter, you too can be a peer tutor and teach others.
Use Shortcuts To increase your productivity by 30 percent, writemonkey.com and www.Q10.com are simple interfaces that allow you to use keyboard shortcuts. If you find dictation is a faster method for you, particularly for fiction or narration, try www.dragondictate.com for voice recognition software that directly works with your word processor. An app for your phone called www.voicememo.com will transform the way to develop ideas. Very easy to use and at your fingertips wherever you have your phone. For an even more advanced approach to voice software, email those mp3 files over to a system like www.verbalinktranscription.com that puts their typists to work on your written words. Editing still becomes your process as well as the adding of your referencing information or other source notes.
Use an outline. Not only will a well-structured outline keep our ideas and thoughts organized, but it will help to keep you stay on topic and follow the specific guidelines of an assignment. Manageable chunks have always been a key to productivity. Develop you own set of goals for the assignment and give yourself small rewards when meeting each milestone. Try tracking your time with an aid found at tracktime.com and let your computer assess your productivity for you. It can assess a wide variety of time spent on email, research engines, word processing, and even how much you are listening to iTunes. When it runs in the background, you are provided with an appealing rainbow-colored accounting timeline. Consider it your short-term wake-up call.
Stuck? Find inspiration all around you. It's in music, our natural environment, works of others, in conversations, forum discussions, films and video. Ideas need a boost…and when they come, write them down. Check out using a great tool called notationalvelocity.com and let a program work for you organizing all your notes, textfiles, phone notes and other random "jottings" that are digital. The program organizes all of this on your desktop in a centralized, searchable location and syncs with Simplenoteor WriteRoom on your iPhone.
Don't edit as you go. Writers may disagree about this, but the process of editing is, in itself, a negative force. Its nature is to look for errors, omissions, and inaccuracies. It can wait! Let the process flow. At writeroom.com, you can learn more about how to let your words flow and worry about formatting later. Take a break between the two as well, it gives perspective. There are online tools to help with editing progress such as: www.diffchecker.com. If you would like to learn more about the quality of your work, one of the best sites out there to try for free is www.gingersoftware.com. To get a better idea of the reading level of your work, www.readability-score.com can do this for your samples.
Take a Some research has show that creativity can come from distraction. See what they say about this at www.noisli.com. Mix things up … and go beyond the ordinary. Imagine ordinary things that become extraordinary. And for optimal focus, regular breaking helps relax and rebuild energy. At www.timeout.com ,you'll find a very easy to use application that runs in the background of your work. You can set the intervals, such as 30 minutes, and it fades, and then gently nudges you into breaking. If eye-strain is an issue, it can be set for mini-breaks at smaller intervals. For more productive break time, using www.focusbooster.com enables you to mix your writing other computer tasks with that daily to-do list. It's sort of a time-management coach that tracks the time you need to spend on a variety of tasks. A good workout for your attention span!
Recycle your content. Ever feel like you are re-inventing the wheel? Have a look at something you produced before on the topic at hand. Nothing is ever lost in this digital age. Freshen it up with more up-to-date insights, as it may suddenly be something new to a different audience that whoever first saw it. Give it a more modern twist or spin, or use it as the starting point to something that warrants a new discussion.
Jessica Millis, a newbie writer, freelance editor and content creator.