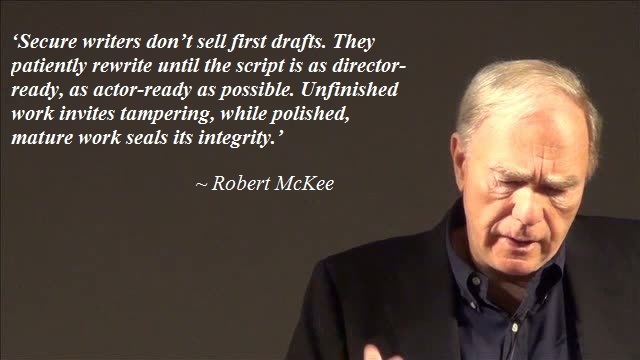 Write like Robert McKee: Must-Know Tips from the Master
Can you name the only celeb who did not attend McKee's seminars on filmmaking, screenwriting, and storytelling?
While you are wondering, here goes one interesting fact for you:
"Your 'fluffy' is a ruthless killer"
~Robert McKee about cats after seeing his pet eating a mouse.
Robert McKee is a man who tells Hollywood how to write screenplays and make stellar movies.
What is so special about this person? Why do some call him a writing guru while others take him with a grain of salt?
He's a writing instructor traveling with Story Seminar around the world and teaching authors to write. He is who examines a narrative structure of every story, tells how to write dialogues and how to make every aspect of your screenplay hit the target.
His alumni have earned 60 Oscar and 200 Emmy awards.
Wanna join them?
Start writing like Robert McKee and follow the tips he gives to every screenwriter, filmmaker, and storyteller.
And yes… Make sure to read this article until the end to find out who was that only person mentioned in the first sentence.
5 tips from McKee to remember while writing:
 Write about something you believe
Interestingly, the collective IQ of people in cinemas rises by 25% when they watch a movie! Your audience is not idiots, and they won't believe a story if you, the author, don't believe this story yourself. Your writing is a reflection of your worldview, and ideas you want to share with readers should reflect your vision of life.
Be honest with the audience, do not try to cheat them: people feel frauds, and they will not accept a story if you write about something you don't believe or accept.
No matter what type of writing you practice, you know what a creative block is: that's not a pleasant moment when you stumble and can't write a word! Most authors believe it's an effect of inspiration lack but, as a rule, the true reason for this phenomenon is information gap. And the crucial moment here is to resist the temptation of plagiarizing or paraphrasing from others.
Experience and imagination are best helpers of every writer, so if they don't work on you – march to a library! Books allow learning the information and, figuratively speaking, living a thousand of new lives in contrast with your only experience.
Don't underestimate your antagonists
Regardless of its genre, every story has a protagonist with aims in life, and a writer comes up with obstacles for the protagonist to succeed. Rules to follow here:
Don't create too many events for protagonists
Make sure the obstacles you create are clear for your readers/audience
With 40-60 scenes per movie, screenwriters don't have time to reveal every detail of a protagonist's life and explain how it influenced his or her deeds or thoughts. One scene equals one event, so tell about determiners only. When writing a novel, follow the same principle.
But your protagonist can't be alone. The audience expects no less than superb antagonists who would be on a par with the main character of your story.
We know the examples of antagonists who left protagonists far behind and became favorites: Joker vs. Batman (The Dark Knight), Tyler Durden vs. The Narrator (Fight Club), Darth Vader vs. Luke Skywalker (The Empire Strikes Back) – thousands of people around the world love and cite these characters today.
The more interesting your antagonist is, the more exciting it will be for your audience to read/watch a story about his or her confrontation with a protagonist.
Can you tell maximum with minimum words?
Dialogues in your story are more than mere talks of its characters: they help your audience understand the point. Make sure your dialogues are simple and clear because no one will read or listen to long and boring talks.
The only rule to follow here: don't create a dialogue if you can express the same idea with the help of other writing methods.
It's time to reveal the ugly truth of every writer's life:
90% of your writings is trash.
Yes, c'est la vie. You will fail many times before creating a text, chapter, or film scene worth reading, adaptation, and watching. So, you are a lucky devil if at least 10% of your writings are of high quality. Get ready for a long and hard way to success.
All these tips come from Robert McKee's book Story. And yes, that only celeb who has never attended McKee's seminars is Steven Spielberg.
___________
Lesley J. Vos is a professional blogger and web writer behind publications on content creation, marketing, and self-development. You are welcome to find and criticize more works of hers in Twitter or drop her a line here.