What My Feelings Had To Hide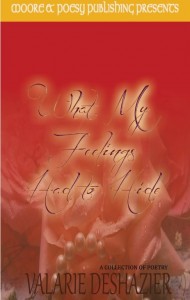 Author
Valarie DeShazier
Author Bio
Valerie DeShazier served in the U.S. Army. Earning an business certificate from Iverson Business School in Atlanta Georgia .
Her passion for writing came from the hardship that she had experience, from the streets to a lifestyle of prayer built a therapeutic haven to welcome and share with the world.
Description
What was hidden is now exploded as Valarie DeShazier brings together her sentiment and her ideation in this book of poetry.
Book excerpt
My Life Pt.1
They say I'm going to hell and They might be right But it want be because of My life style Maybe because of the words I may use or The look I may give with The eyes that are heavy load I stand back and watch them walk by With their noses In the air I smile because they don't Know my story Judge me if you will I can take it so bring it on…
Author Website
Best place to buy your book
What My Feelings Had to Hide