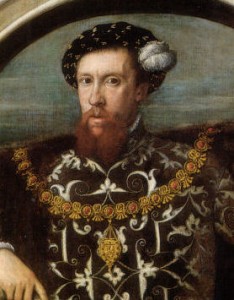 A SONNET
Description and Praise of his Love Geraldine.
From Tuscan' came my lady's worthy race;
Fair Florence was some time their ancient seat;
The western isle, whose pleasant shore doth face
Wild Camber's cliffs, did give her lively heat:
Fostered she was with milk of Irish breast;
Her sire an earl; her dame of princes' blood:
From tender years, in Britain she doth rest
With king's child, where she tasteth costly food.
Hunsdon did first present her to my een:
Bright is her hue, and Geraldine she hight:
Hampton me taught to wish her first for mine:
And Windsor, alas, doth chase me from her sight.
Her beauty of kind, her virtues from above;
Happy is he that can obtain her love.