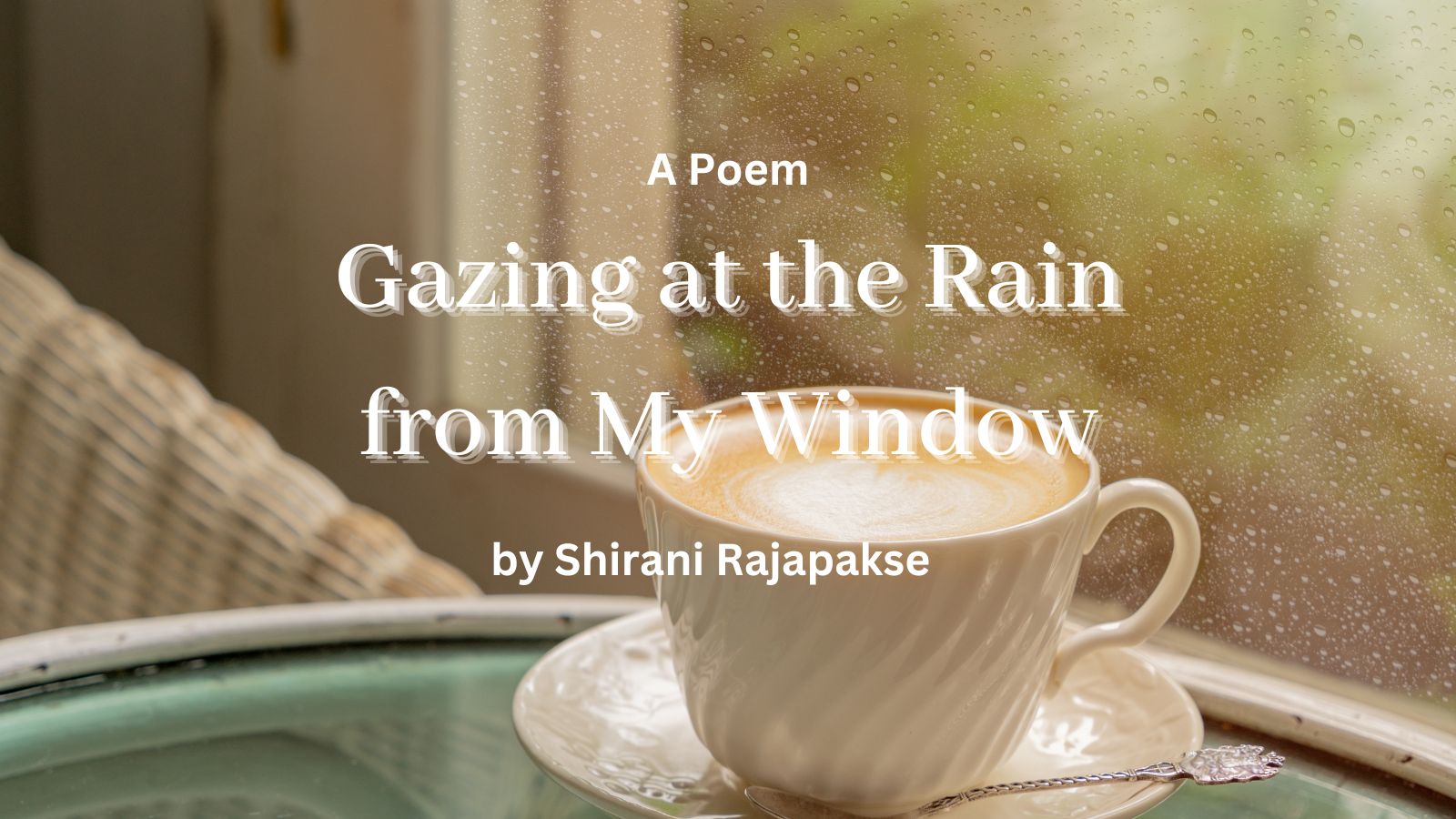 Gazing at the Rain from My Window
by Shirani Rajapakse
Words gush out of my brain
like the rain these past few days.
I'm tired of both,
the words and the rain.
I can't control either.
The words I can't still.
They scream to get out and will stop
only when dropped
in black and white.
I'm tired of scribbling day in day out.
They don't let me sleep, but call in my dreams
to write them down.
Who are these
words that want to be heard?
Are they remnants of past lives?
Why does the
rain fall so hard so long?
Shirani Rajapakse writes poetry and short stories. She's the author of five books including Gods, Nukes and a whole lot of Nonsense – winner of the 2022 State Literary Awards, Sri Lanka; I Exist. Therefore I Am – winner of the 2019 State Literary Awards, Sri Lanka, shortlisted for the 2019 Rubery Book Awards, UK; and Chant of a Million Women – winner of the 2018 Kindle Book Awards, USA, Official Selection in the 2018 New Apple Summer eBook Awards for Excellence in Independent Publishing, USA & Honorable Mention in the 2018 Reader's Favorite Awards, USA. Rajapakse's work was highly commended for the 2022 erbacce-prize for poetry, UK. She also won the 2013 Cha "Betrayal" Poetry Contest, Hong Kong and was a finalist in the 2013 Anna Davidson Rosenberg Poetry Awards, USA. Rajapakse's work appears in many journals and anthologies including Dove Tales, Buddhist Poetry, Litro, Berfrois, Flash Fiction International, Voices Israel, About Place, Mascara, Counterpunch, Silver Birch, International Times, New Verse News, Cultural Weekly, The Write-In, Harbinger Asylum and more. Her work has been translated into Farsi, Spanish, French and Chinese. Rajapakse read for a BA in English Literature from the University of Kelaniya, Sri Lanka and has a MA in International Relations from JNU, India. If you would like more from Shirani Rajapakse please visit her site or check out her books.