ZitrO Publications
Website
From the Publisher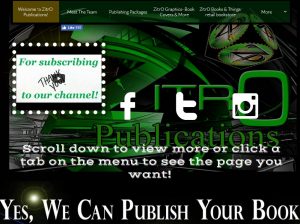 ZitrO Publications is a full-service publishing company, offering all publishing/production services including, but not limited to, typing, editing, formatting, cover design, e-book upload, logo/ banner design and so much more! ZitrO Publications has become one of the fastest growing self-publishing companies North Carolina since we opened our doors in 2013! Whether you are wanting to join the ZitrO team of authors or you are wanting to self-publish and are in need of our many publishing services, our dedicated team of publishing professionals is committed to helping authors discover their very best work and find exciting, new ways of bringing stories and ideas to audiences worldwide.
If you are looking for a professional, dedicated, friendly, and local publishing family to join, then look no more, ZitrO Publications is accepting manuscripts. We require a copy (no original or only copies of manuscripts) of your first 3 chapters, your last 2 chapters and the synopsis of your manuscript. We accept Street Lit, Urban Fiction, Erotica, Autobiographical, Inspirational, Motivational works, and Poetry!
ZitrO Publications is not responsible for any lost manuscripts.
Submissions
Teen Book Publishing, Thriller
Information
What forms of writing are you looking for? Non-Fiction, Fiction, Poetry, Short Stories
Editors Name
Year Founded 2013
Does the Press Accept: Online Submissions, Unsolicited Submissions, Take Queries Only
Ebook or Print? Both
Do your charge for any services? Yes
Submission Guideline URL Zitro Guidelines
Contact
Email info@zitropublications.com
Address 4909 Raeford Rd
#700
Fayetteville, NC 28304
United States of America
Facebook Zitro Facebook
Twitter
GooglePlus
Category
Academic Book Publisher, Book Publishing Company, Children\'s Book Publishing Company, Christian Book Publishing Company, Cultural Book Publishing Company, Current Affairs Book Publisher, Crime Book Publishign Comapany, Contests, Drama Book Publishing Comapany, Ebook Publishing Company, Erotic Book Publishing Company, Fantasy Book Publishing Company, Garden Book Publishing Company, Health Book Publishing Company, Historical Book Publishing Company, Horror Book Publishing Company, How To Book Pubulishing Company, Humor Book Publishing Company, Independent Book Publishing Company, Inspirational Book Publishing Company, Large Book Publishers, Lesbian Book Publishing Company, Literary Book Publishing Company, Literary History Book Publisher, Memoir Book Publisher, Mystery Book Publisher, Philosophy Book Publisher, POD, Poetry Book Publishing Company, Political Book Publisher, Printing and Binding, Psychological Book Publisher, Radical Book Publisher, Religous, Romance Book Publishing Company, Science Book Publishing Company, Science Fiction Book Publishing Company, Self Help Book Publisher, Self Publishing Company, Small Publisher, Spiritual Book Publisher, Suspense, Takes Queries, Taking