Website
http://moonshinecovepublishing.com/index.html
From the Publisher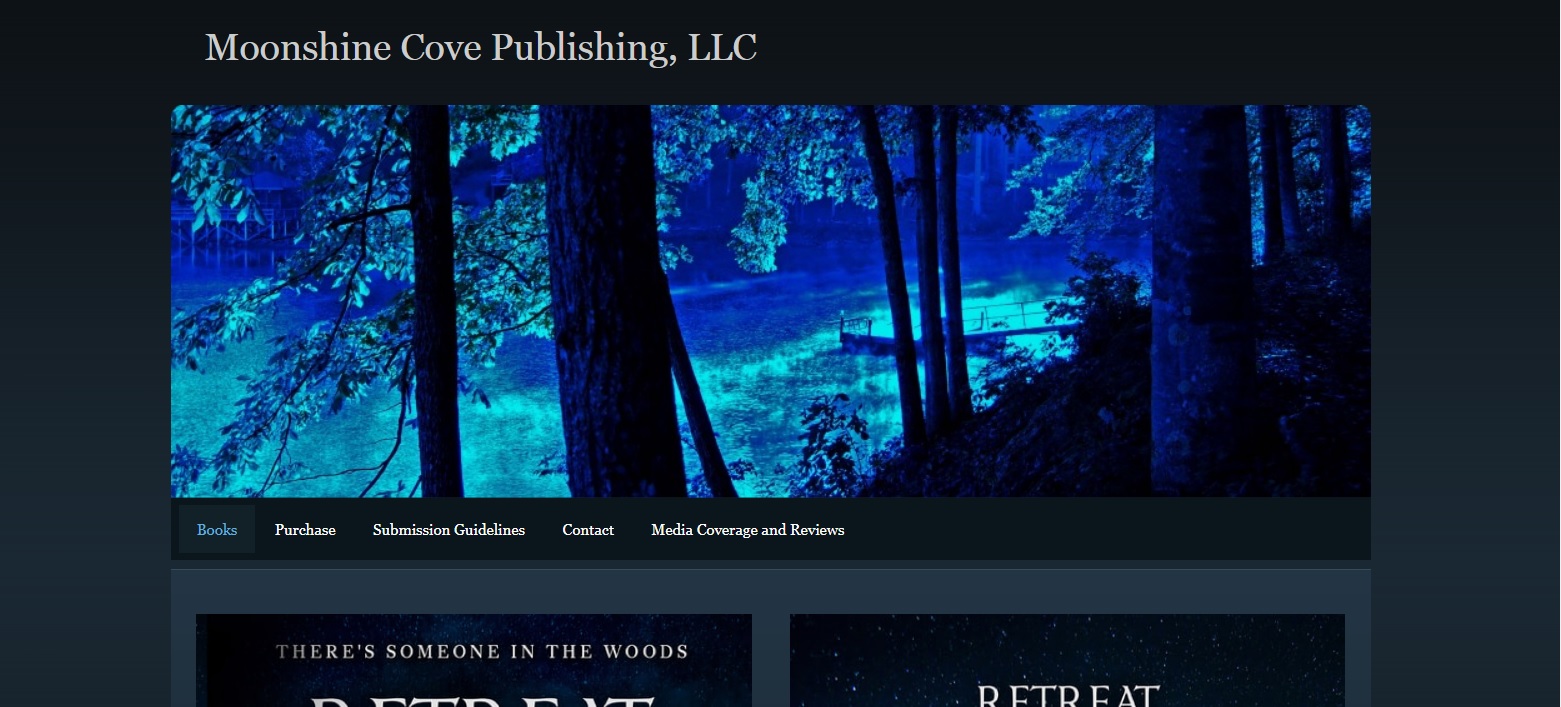 Moonshine Cove Publishing, LLC is a small independent publisher of both fiction and non-fiction based in the Appalachian foothills region of South Carolina. We are not a vanity press, subsidy publisher or so-called self-publisher meaning our authors do not pay us anything at all to have their books published. We are, however, highly selective, accepting only about 10% of the manuscripts offered to us. We provide a written critique to the author for each manuscript we publish. Our books are distributed nationally and internationally through Ingram and many regional wholesalers. They may be purchased online at Amazon and Barnes and Noble as well as in most bookstores.
Here is a list of the books we have published:
http://moonshinecovepublishing.com/index.html
To submit a query, please follow our guidelines:
Before you decide to query us, make sure you will be happy with us if we offer you a contract. We don't have any huge press runs; as a matter of fact, we don't have press runs at all. Our books are printed when an order is received. Neat, simple, highly efficient. No warehouses stacked with books that can't be sold. No waste, no returns, no going out of print—that's what print on demand technology offers. POD is the wave of the future. The dirty little secret of the big publishers is that they are using this technology too, for their lesser known authors, the ones with names you probably wouldn't recognize. That's actually most authors.
We also don't have any huge budget for publicity. In fact, we make it clear to each and every Moonshine Cove Author that they will have to shoulder most of the responsibility for promoting their book. Most of your sales will be through Amazon instead of book stores. The reason is that, although book stores can order our books, they are unlikely to stock them because we do not accept returns. The exception to this would be independent deals that an author might work out with a store.
As we hope our statement demonstrates, we are also honest with authors, no sales talk, no spin, no rose colored glasses.
Query first (email only). Put either Query (Novel) or Query (Non-fiction) in the subject line. Paste in the first five pages after your letter. Don't include any attachments because we will not open them.
Submissions
Query first (email only). Put either Query (Novel) or Query (Non-fiction) in the subject line. Paste in the first five pages after your letter. Don't include any attachments because we will not open them.
LIST AT THE TOP OF YOUR QUERY THE AUTHOR'S NAME, TITLE, WORD COUNT AND GENRE.
Make sure your query is the best writing you can do since it may be the only sample we ever see. Don't try to be fancy. Direct and to-the-point is better. In your second paragraph, tell us what your book is about and why it's worth publishing. Convince us it's worth our time looking at more.
Your third paragraph gives you a chance to tell us about yourself including your writing background, published work and how you plan to promote and publicize your book. If you are a published author, be sure to mention that. List each book, its genre and how well it has sold.
NOTE: If you paid the publisher any amount of money to publisher your manuscript, you are not a published author.
PLEASE DO NOT CALL YOURSELF A PUBLISHED AUTHOR IF YOU MEAN AMERICAN STAR BOOKS, FORMERLY PUBLISH AMERICA, OR NUMEROUS OTHER SIMILAR COMPANIES THAT MAKE THEIR PROFITS FROM SELLING AUTHORS RATHER THAN BOOKS.
PLEASE NOTE: WE PUBLISH ONLY WORK THAT HAS NOT BEEN PUBLISHED BEFORE. IF YOUR WORK HAS BEEN PUBLISHED IN ANY FORM, E-BOOK, VANITY PRESS, SUBSIDY PRESS, SELF-PUBLISHED, PLEASE DO NOT SEND US A QUERY. YOU WILL BE WASTING YOUR TIME AND OURS. WE ALSO DO NOT PUBLISH POETRY, FANTASY OR NOVELS SHORTER THAN 40,000 WORDS, SO THE SAME APPLIES.
What Are We Looking For?
We only publish work that is original and that has not been published before. If we ask to see more, we will let you know. If we ask (and only if we ask), first and foremost, don't send us anything that hasn't been edited. Make sure your work is error free, clear and concise. Send us exactly what we ask for, not more, not less. We try to make a decision on whether we want to pursue your work further within six weeks to two months from the time we receive your query. If you haven't heard from us within twomonths, you should contact us again because sometimes we miss seeing query letters that our spam filter caught.
Do not send us anything by regular mail, electronic submission only. Submit your query to this email address:publisher@moonshinecovepublishing.com. Do not send us anything except a query letter with the first five pages of your manuscript PASTED into the body of the email (pasted, not attached). We will not open attachments or click on embedded links.
If we ask to see your manuscript, send it only if it's your final edit. If you're still thinking of making changes, it's not ready to send, so please don't send it. Our decision will be based only on that version of the manuscript, not another one that you want to send later. We will accept no changes or no later version of the manuscript until we move to the editing stage.
What Genres are you Interested In Seeing?
Novels – adventure, action, historical (especially ancient Rome & Greece), historical romance, mainstream, mystery, romantic suspense, hard science fiction (not fantasy), police, political, suspense, thriller, true crime, legal, psychological and anything else that strikes our fancy.
Non-fiction – economics, history, military, nature, political, psychology, science, self-publishing, writing and others.
Information
What forms of writing are you looking for? Non-Fiction, Fiction
Editors Name Gene Robinson
Year Founded 2011
Does the Press Accept: Take Queries Only
Ebook or Print? Both
Do your charge for any services? No
Submission Guideline URL
Contact
Email publisher@moonshinecovepublishing.com
Address 150 Willow Pt
Abbeville, South Carolina 29620
United States of America
Facebook 
Twitter https://twitter.com/MoonshineCove?lang=en
GooglePlus
Category
Book Publishing Company, Taking Submissions