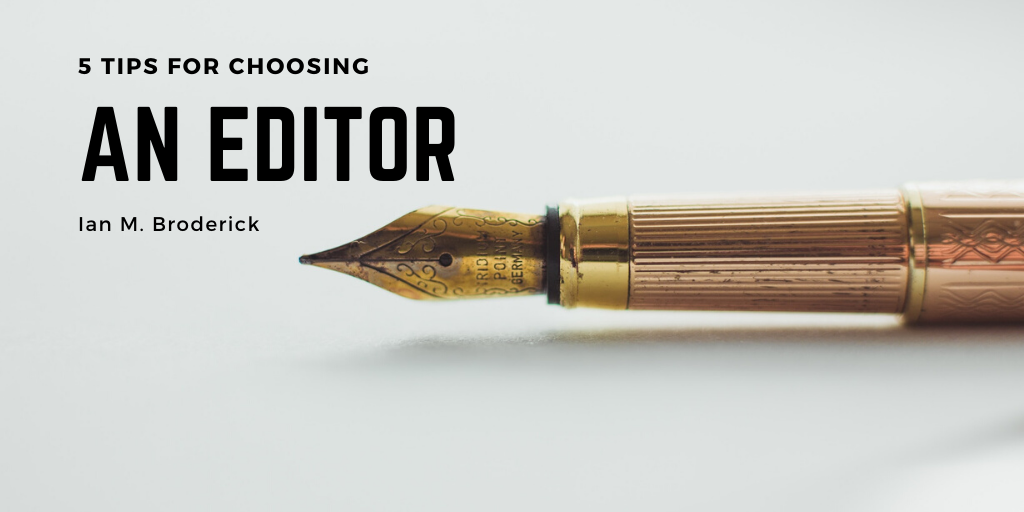 You've committed two drafts to paper, followed every spellcheck suggestion, and triple-checked to make sure your main character's (or MC's) eyes don't alternate color like a kaleidoscope between chapters. You've done all you can, and there's only one more daunting step before sending it off to query or publishing: Editing. You can edit yourself, sure, but the old adage about a man who represents himself in court having a fool for a client can be applied. Seeing your own mistakes isn't easy on the first go around, let alone the fifth, and you're going to need fresh eyes. More importantly, you're going to need fresh eyes with the knowledge necessary to make your work the best it can be. But how do you know if an editor is right for you? Conveniently, that question has hopefully been answered in the following list.
1. Good reviews
As with most services, the best way to ensure you get someone qualified and competent for a job is by confirming that their previous customers are satisfied. Check for reviews and testimonials on the editor's site. Ask other writers about their experiences with particular editors as well. Word-of-mouth might seem antiquated, but it's still an effective way to find someone that at least someone trusts.
2. Get a sample
Just about any editor will do a treatment of 750 words\3 pages free of charge. It's not a tremendous amount of work, but it can give a general idea of what their abilities are, how they work (long gone are the days of uniform red marks on a copy), and how they will approach your work. It will also allow you a peek into how they'll handle point number three…
3. Respecting your voice
Every writer has their own voice, style, pizzazz, whatever you want to call it. That intangible place where rhythm, prose, and word choice mingle into a unique voice. Hemingway's straightforward curtness, Faulkner's beautiful verbosity, Pahlaniuk's visceral descriptions. A good editor will hone in on that voice and enhance it, not step on it or rewrite things as they would write them. If the give-and-take of the editing process isn't respected, the editor will end up sending something that, while possibly improved, isn't what the author wanted. That's a surefire recipe for wasted money and resentment.
4. Clearly define the work needed
Are you getting a copy or a content? Proofread or line edit? If it's still early in your process, is it a developmental? Both of you need to be incredibly precise about what it is exactly that you expect out of the process. Once you're sure what it is you need, make sure that the editor you hire is familiar with that work. I started off proofreading and gradually evolved to copy and content after years of honing my craft. Not every editor will have the same skill set. The best proofreader in the world might know as much about what makes a story work or a character flop as you do about peach farming in Mongolia.
5. Clear pricing
After you know what you need, you need to know what it costs. Most editors charge by the word or by the page, so the final cost should be more or less settled on before red pen even touches paper or, more accurately, the little "record changes" box gets ticked. Discuss in depth what you want, roughly how long it will take, and what that will cost. Don't forget to agree when the money changes hands, either. Most of my colleagues are honest, but, as with any specialty service, it doesn't hurt to be wary of hidden costs or unnecessary work with its own extra pricing. On the flip side of that: Don't spring additional work on your editor and expect not to pay for it. A contract is never a bad idea when money is involved, either.
Putting your baby into the hands of a stranger isn't going to be easy. Even less so when that stranger has a pair of scissors and their own idea of how that baby should be shaped. Hopefully, these tips can at least make sure that whoever you find knows where to start snipping. If you follow the above, you should be one step closer to having your book in a reader's hands.
[wp-post-author]