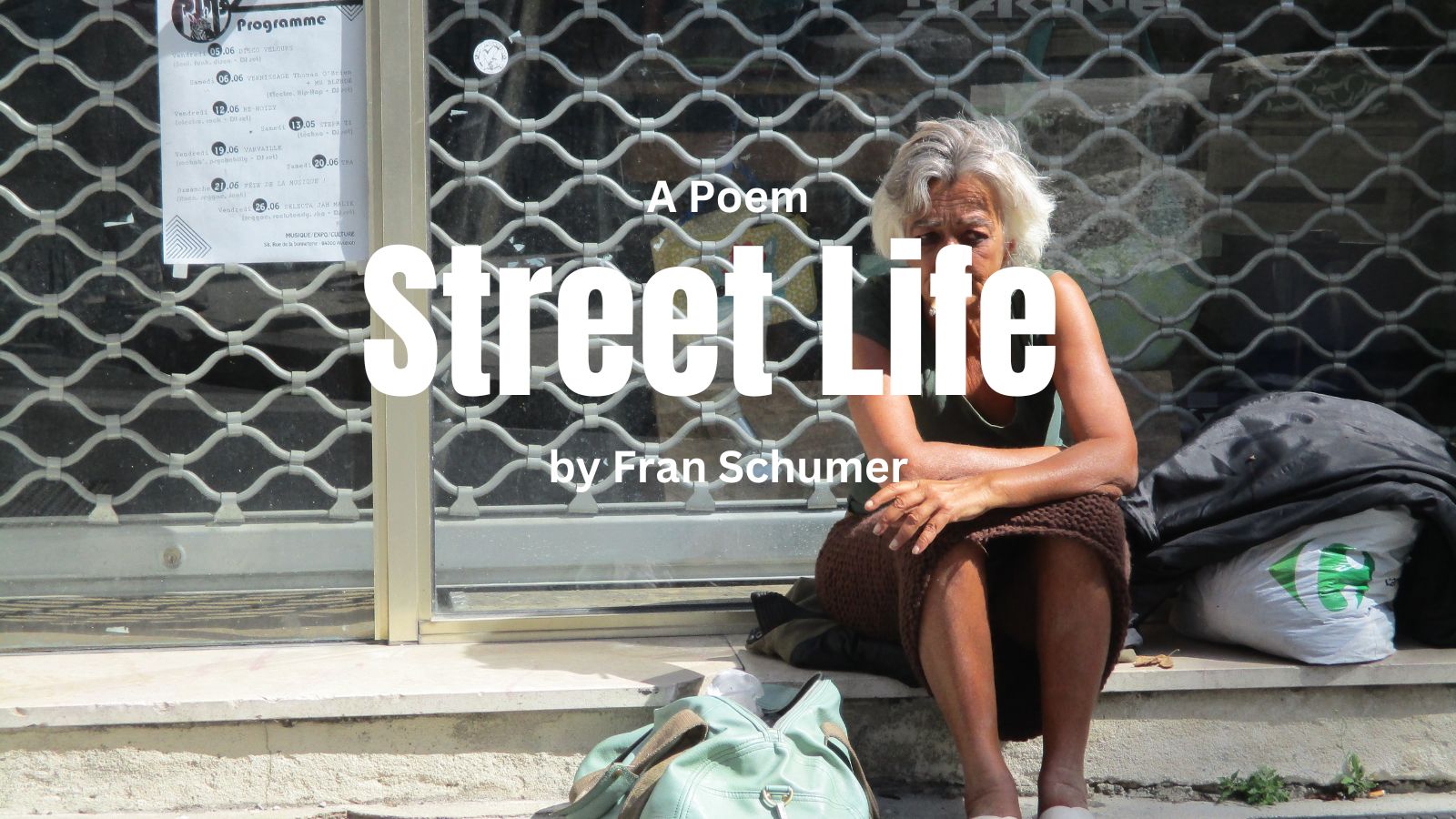 Street Life
by Fran Schumer
Today, I watched a woman,
not young, squat in a doorway
on a crowded street, and pee.
I wore my new black shoes.
Later, I saw her crouch down
beside two men. Their cheeks,
crinkly brown like autumn leaves,
glowed in the still warm sun.
When I was young, I watched
a Little Person, fair and blond,
squat beside a tall, dark man
on a crowded highway, and pee.
How breezily she zipped up her jeans,
leaned against her companion,
then continue on her way.
Even younger, I watched an old woman
pick through the trash at Coney Island.
Her shredded stockings
crawled up her legs like spider silk.
The hamburger my parents bought me
turned grey in my cold, numb hand.
My great aunt picked
through trash
though she wasn't poor.
Her husband was maybe gay —
no talk of that then —
she only knew she was unwanted,
pitied for not having children.
I watched her rummage
through old crusts, crushed cans,
bags stained with grease,
a veiled hat pinned
to her angel white hair,
a brooch at the collar
of her fine, dark dress.
At home, I disinfect my new shoes,
tell my husband of the varied street life
in the downtown where we now live,
at this, the end of our years.
Better than living in a gated community,
blind to the world, he says.
I say no —I'd rather live
in a gated community,
and soon we will,
walls made of clouds,
the angels singing,
lulling us into the false
consciousness of the dead.
Fran Schumer's poetry, fiction, and articles have appeared in various sections of The New York Times; also, Vogue, The Nation, The North American Review, and other publications. She won a Goodman Loan Grant Award for Fiction from the City University of New York and in 2021, a Martha's Vineyard Institute of Creative Writing poetry fellowship. In 2022, her poem, Memento Mori, was a winner of the Martha's Vineyard Poet Laureate's 2022 Contest. Her Chapbook, Weight, was the first runner up in the Jonathan Holden Poetry Chapbook Contest and was published in 2022 by Choeofpleirn Press. A native of Brooklyn, N.Y., she studied political science at college but wishes she had spent more time studying Keats.