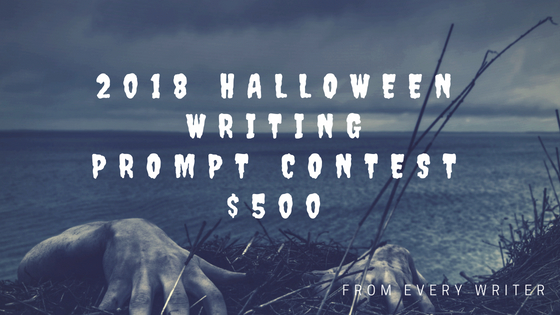 Welcome to our 2018 $500 Halloween Writing Prompt Contest. We decided to try something different this year. We are asking for writing prompts from YOU. In this case we are asking for writing prompts that will produce scary stories. You can see examples of these types of writing prompts over at our Top 10 Horrifying Horror Prompts. These prompts, the page was so popular, we wanted to write more than one, but we decided to get your help. We are going to use all or some of these for a new list of horrifying horror prompts.
The 1st, 2nd, and 3rd place winners of this contest will the first 3 on our new list. We will give you credit for the prompt and a link to your page. The first place winner will walk away from this contest with $500. We want your horrifying halloween writing prompts!
Here are the rules of contest:
You have to write a scary horror prompt (or it must inspire other writer to write a scary story)
You have to write your prompt in the comments section
You have to do this by October 28, 2018.
Winner of the contest will be announced on Halloween Night
Prompt must be original and not published anywhere else on the web
Write your scariest horror story prompt and put it in the comments below.  Here is what you will win:
Winner gets $500
Winner and other best prompts will be published on our Terrifying writing prompts page
You will get credit for your prompt on our site
You will get a link to your site from our page
You will get to inspire others to write terrifying stories
The prompts can be scary, we want them to make us feel fear, but in the end the prompt just has to make us and others produce something a horrifying story. So leave your Halloween Horror Prompts below!