Opportunity Publishing
Website
Closed
From the Publisher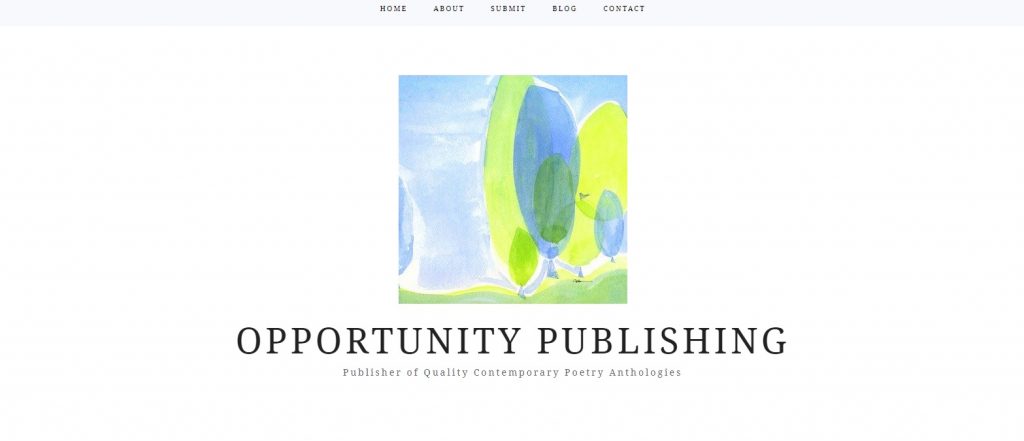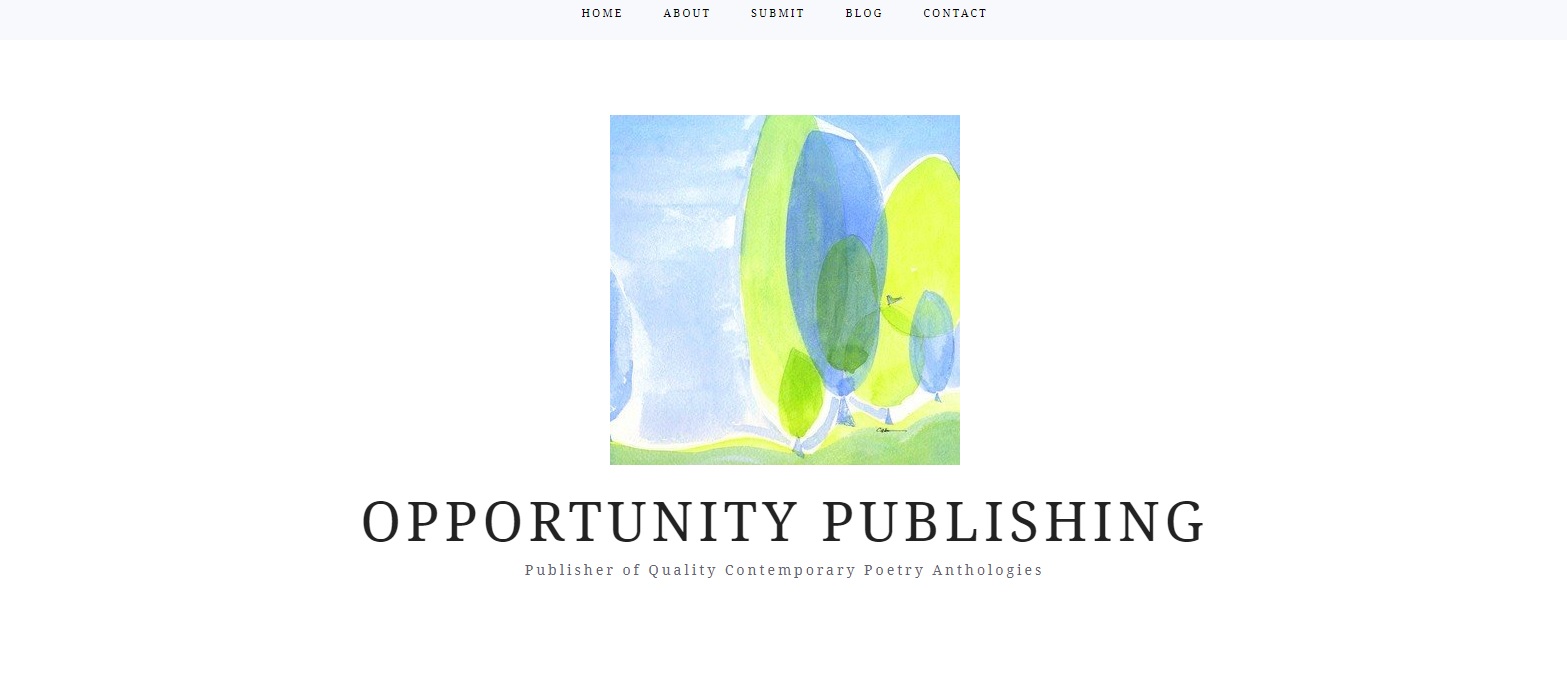 About Opportunity Publishing
Opportunity Publishing is an independent publisher of quality contemporary poetry anthologies by emerging and established poets worldwide. We specialize in producing quality printed anthologies featuring thoughtful, sophisticated, mature, nuanced, urbane poetry that appeals to discerning poetry enthusiasts worldwide. The company is managed by poet, editor, and publisher Guy Farmer.
An Easier Way to Publish Your Poetry
Opportunity Publishing offers an easier way for emerging and established poets to get published. There's no jumping through frustrating hoops, just submit your poetry, the editor reviews it and, if it's a fit, you're elegible to be published in the next anthology. You communicate directly with the editor and publisher.
Currently Accepting Poetry Submissions for Publication
Opportunity publishing is accepting poetry submissions for publication in an upcoming anthology. We are seeking poems that are nuanced, thoughtful, sophisticated, and that reflect a depth of knowledge and life experience. Whether you're an emerging or established poet, you're welcome to submit your poems for consideration. If your work is a fit, we'll publish it in the next anthology. Submissions are accepted on an ongoing basis.
Benefits of Publishing Your Poetry with Opportunity Publishing
• Your poems are published in a quality anthology along with the work of other talented poets.
• You become a published poet.
• You retain the rights to publish your poems elsewhere.
• You don't need to have a literary agent or negotiate with a publisher.
• You don't have to do anything to produce the book.
• The book is listed on Amazon.com and any person with internet access around the globe can buy the book online.
• You work directly with the person who makes all the publishing decisions.
• We promote you and your work on the website.
About Poet Guy Farmer, Editor and Publisher
Poet Guy Farmer has published the work of talented poets from all over the world on sites he created and manages, which is what gave him the idea to start an independent publishing company. He enjoys helping poets share their amazing voices, so he started Opportunity Publishing to help lovely people become published poets. Guy applies his expertise in writing, editing, and publishing poetry online to create thoughtful, quality poetry anthologies that poets and readers can be proud of.
Submissions
Original poetry that is thoughtful, nuanced, sophisticated, urbane, and that reflects a depth of knowledge and life experience.
Information
What forms of writing are you looking for? Poetry
Editors Name Guy Farmer
Year Founded 2018
Does the Press Accept: Online Submissions, Unsolicited Submissions
Ebook or Print? Print only
Do your charge for any services? Yes
Submission Guideline URL
Contact
Email
Address PO Box 50567
Sparks, NV 89435
United States of America
Facebook
Twitter
GooglePlus
Category
Book Publishing Company, Independent Book Publishing Company, Poetry Book Publishing Company, Small Publisher, Taking