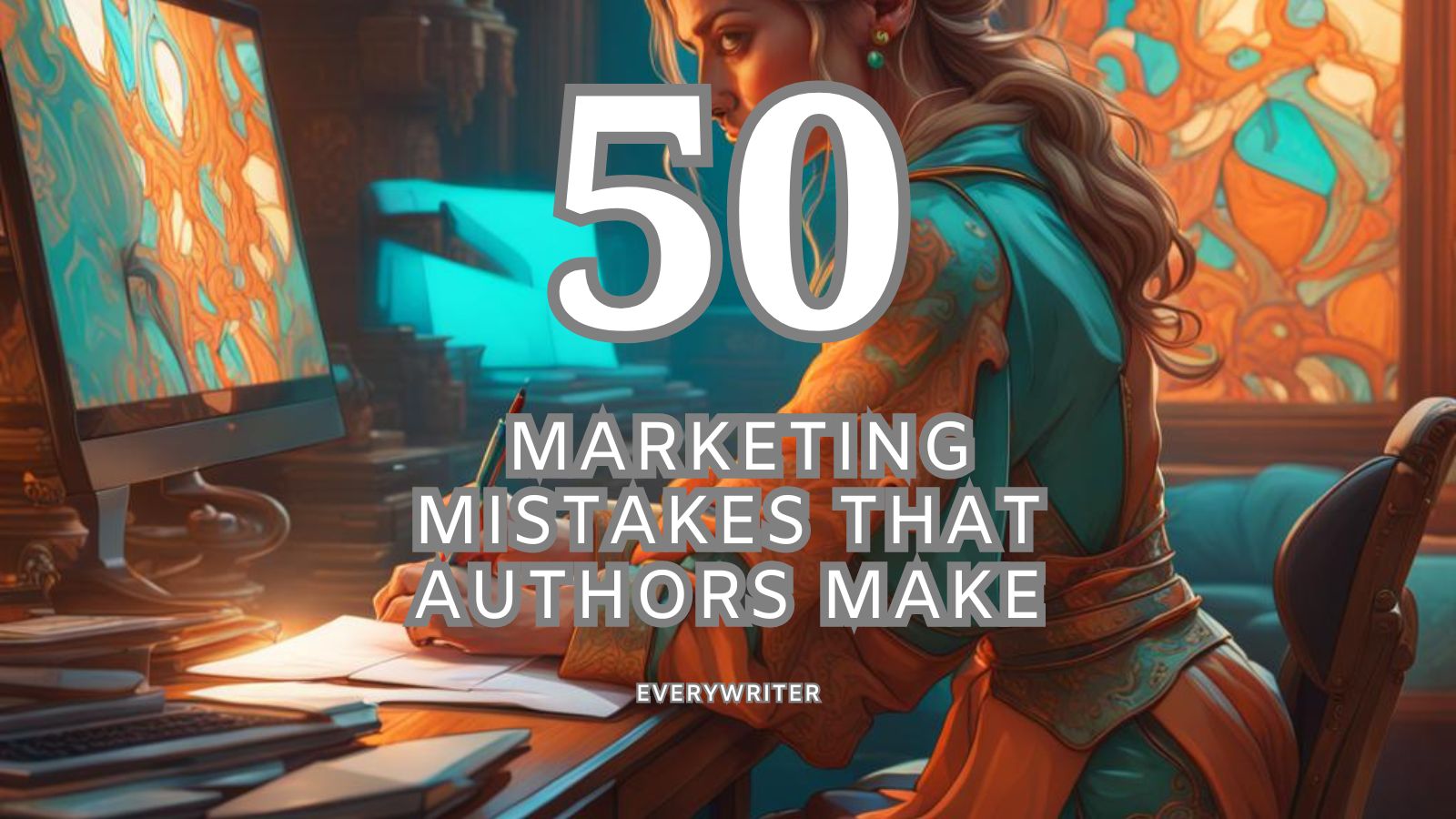 Marketing a book effectively takes strategic planning, creativity and persistence. Even seasoned authors can miss the mark sometimes. With the competitive modern publishing landscape, it's crucial to avoid common book marketing mistakes that sabotage your chance of success.
Here are 50 marketing mistakes that authors make time and time again so you can sidestep them in your own book promotion efforts. Whether you're a first-time author preparing for launch or a veteran writer seeking to improve, this extensive list will help you identify areas where you may be going wrong and provide insights on how to course-correct.
From not defining your target reader to solely relying on Amazon, many marketing missteps stem from lack of research, inadequate planning and unrealistic expectations. By learning from other authors' errors, you can save yourself time, money and disappointment. I've also included brief explanations of each mistake so you understand exactly why it should be avoided.
With a mix of big picture strategy errors and smaller but equally significant tactical slip-ups, these 50 marketing mistakes cover the full range of activities and platforms self-published authors handle themselves nowadays. My goal is to help you approach your book promotion with realistic expectations, the right priorities and effective techniques.
Avoiding these common pitfalls will set you on the path to marketing success and turn what is usually an overwhelming, complex process into an organized, streamlined one. So read on to make sure your precious marketing time and dollars are invested wisely!
Not having a clear target audience – Not defining your ideal reader makes it hard to create content that resonates with them.

Weak book title and cover – The title and cover are the first touchpoints so they need to grab attention and convey what the book is about.

No book description – Write an intriguing, succinct description to summarize the plot and hook readers.

Not using metadata – Optimize metadata like keywords, categories and subcategories so readers can easily find your book online.

Ignoring SEO – Use relevant keywords, tags and alt text so your website and listings rank higher in search engines.

No marketing plan – Have a strategy with specific goals, target audience, platforms, content plan and timeline.

Waiting until launch – Start building buzz and an audience months before launch date through soft marketing.

Ignoring reviews – Reviews build credibility so proactively request them on retailers like Amazon and Goodreads.

Not promoting anywhere – Actively promote your book across multiple platforms to maximize reach.

Info dumping – Avoid overwhelming followers with long posts. Keep content short, visual and engaging.

Irregular posting – Post consistently so you stay top of mind. Share excerpts, tidbits, prizes etc.

Hard selling – Focus on sharing value vs. sounding salesy. Build relationships.

Not responding – Promptly respond to reader comments and questions to provide good service.

Automating everything – Automate some posts but also personally interact with readers.

Ignoring analytics – Track performance to identify what content and platforms resonate best. Refine ineffective efforts.

Not re-engaging – Continuously re-engage with past customers through new content, offers etc.

Forgetting calls to action – Always include a clear CTA in content to get readers to take action.

Waiting for traction – Gaining traction takes time. Persist with marketing efforts even if you don't see immediate results.

Not evolving tactics – As you grow, evolve tactics instead of relying only on what worked initially.

Forgetting the long game – Book marketing is an ongoing effort. Persist for the long-term even after launch.

No email list – Build an email list to regularly engage with readers. Offer opt-in incentives.

Ignoring formats – Make your book available in different formats like ebook, print, audio to reach more readers.

Vanity press – Avoid publishers that charge you. They are not motivated to market the book.

Overpricing – Price competitively based on factors like genre, length, production cost and perceived value.

Underpricing – Pricing too low can give the impression your book is low quality or value.

Not using pre-orders – Allow readers to pre-order months before release date to boost launch rankings.

Ignoring back matter – Include bonuses like sample chapters in the back matter to generate interest.

Not offering bonuses – Free workbooks, guides etc. add value for readers and incentivize purchases.

Relying solely on Amazon – Make your book available across multiple online/offline retailers and platforms.

Ignoring in-person events – Do book readings, signings and speaking events to connect with local readers.

Not following up – Follow up with media contacts you pitch to build ongoing relationships.

Waiting too long for next book – Release your next book within 12-18 months since readers forget quickly.

Ignoring recurring revenue – Consider membership programs, courses etc. for ongoing income beyond book sales.

Not segmenting audience – Tailor messaging and content to different reader demographics.

Using only free tactics – Combine free and paid marketing for optimal impact according to your budget.

Not testing – Test pricing, covers, ad copy etc. to see what resonates most with your audience.

Focusing on bestsellers – Look beyond bestseller lists and connect with niche communities aligned to your book topic.

No marketing help – Consider hiring a book marketing expert if self-marketing is overwhelming.

Thinking launch is enough – Sustained marketing post-launch is crucial for long term success.

No post-launch plan – Have a calendar of activities to keep momentum going after initial launch dies down.

Not networking – Network and cross-promote with other authors in your genre.

Ignoring local opportunities – Look for local book signing events, radio shows etc. to connect with readers in your area.

Not tracking ROI – Track and measure marketing efforts to determine ROI and optimize spend.

Not optimizing website – Ensure website is optimized with calls-to-action, SEO elements etc. to drive book sales.

Over relying on social ads – While social ads have a role, have diverse marketing channels to avoid overspend.

Not tracking analytics – Use Google Analytics and social listening tools to gain consumer insights.

No media kit – Have a media kit with book assets, bio, press release etc. ready to send to influencers.

Ignoring video – Leverage book trailers, author interviews etc. to engage visual audiences.

No email signup on site – Have a clear call-to-action on site for visitors to join your email list.

Not prioritizing email – Email marketing helps maintain consistent engagement so focus on growing your list.
Book marketing doesn't have to be frustrating and futile. By being aware of the most common mistakes authors make, you can avoid falling into the same traps in your own promotional efforts. Focus on understanding your target audience, planning sustainably for the long haul, providing value rather than sales pitches, and diversifying your marketing across paid, owned and earned channels. With persistence, creativity and the help of an experienced book marketing strategist if needed, you can make smart decisions that set you up for success both during launch and well beyond. Remember that there is no silver bullet or overnight sensation route. Consistent, strategic marketing across multiple platforms tailored to your book and audience will help turn your book into the breakthrough bestseller you envision. If you found this list helpful, check out our other articles on promoting your work.