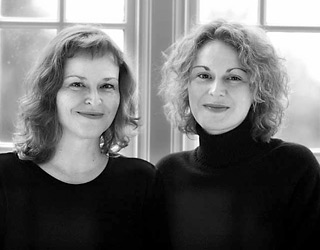 Interview with Susan Burmeister-Brown
You will not find much biographical information around the web about Susan Burmeister-Brown. She co-founded Glimmer Train with her sister Linda B. Swanson-Davis, and Susan and Linda are the current editors of Glimmer Train, one of the top literary journals in the country. If you walk on to a college campus or find someone who follows contemporary literature, they might not know Susan, but they will certainly know her achievements and influence in the literary world. Glimmer Train has been publishing for 18 years, and the publication is consistently outstanding. Susan is a lover of fiction and stories. We corresponded with her by email.
EWR: Why did you decide to begin publishing Glimmer Train?
Susan: My sister and I have always been big readers of literary fiction, and 18 years ago we couldn't find literary journals that were presenting the sort of work we enjoy reading– or at least not consistently. Most of the stories we found in the journals didn't sufficiently engage the heart. We decided to start one that would bring this kind of literary fiction to light.
EWR: Glimmer Train has been very successful at choosing high quality fiction. Can you speak to the process a story goes through in order to appear in your magazine?
Susan: If the story comes to us using our online submission system (which is the case for 98% of what comes in), I am the first reader. I read the first page of the story online. If I want to turn the page, I mark that piece for "full read". I do my full reads in a separate session, since the process of screening work is very different from full reading. I print the stories out at this stage, since I still find it easier to lose myself in pages rather than on the screen. If I love the story, I sit on it for a few days. I see how it stays with me, and I reread it. If I still love it, I give it to my sister. She's a slower and more thorough reader. She's the one who can identify any weak spots, suggest possible edits, etc. She reads it, sits on it a couple of days. If it's staying with her, then she reads it again, circling strong passages as she goes along. It's her way of sinking into a piece. Finally the two of us sit with the stack that has endured, and we talk about each story. We can only print 40 stories a year, so we have to keep our bar extremely high. It basically comes down to our selecting the stories that we can't stand the thought of not publishing.
If the story comes to us on paper through the mail, the story will first be read by our story screener who's been with us for over eight years now. She'll give me her top quarter. Those get my full read.
EWR: What advice would you give to new or young writers trying to build a career in writing?
Susan: I have two pieces of advice:
-Regularly read good writing.
-Unplug yourself from the hurly-burly of life on a regular basis so your subconscious has time to make some good compost. If you have too much going on all the time, or you're always emailing or texting or talking on the cell phone, always have a browser open on your screen seeing what's going on out there in the world, or the radio on in the car – well, these are not conditions in which productive mulling can take place. Writing does not just occur when you're at the keyboard or with pen in hand. It brews in the mind.
EWR: What do you look for in new authors you publish? Is there any criterion that seems to stand out for the new author's work you publish?
Susan: The most important element for us is a strong and unique narrative voice, and I believe it is the piece of storytelling that most benefits from the productive mulling I mentioned.
EWR: How do you think the face of fiction in America is changing? Have you seen trends that might be defining or refining the "post modern" era?
Susan: I think we're seeing some resurgence in the search for meaning. There was a profound shift in the work submitted to us in the months after 9/11, and that shift has continued to solidify. The stories push a little deeper.
EWR: What do you hope Glimmer Train accomplishes as a publication?
Susan: Glimmer Train, for us, is as much about the writers as it is about the readers. Our hope is that the authors who submit to us realize that we value the chance to read their work. For the writer whose story we select, we hope the process of working with us to present the piece is a gratifying and joyful one. And finally, we hope the stories we publish fully engage the reader on all levels – that it is time truly well spent.
EWR: Is there anything that has come from the publication of Glimmer Train that you did not expect as an outcome?
Susan: Sometimes writers will submit to us for a few years, and I watch the quality of their work improve over time. Their stories move to "full read", and then to being referred to my sister, and then eventually a story comes along that makes it to the final stack that we discuss and we decide, Okay, here is a piece we can't stand the thought of not presenting. That is often the path of our accepted authors. It's pretty rare for an author to have the first story they submit to us be chosen for publication. Learning to become a great writer is a process that is actually trackable through their submissions over time. The result for me is that by the time we come to that story we'll publish, I already feel a certain level of intimacy with the author's work. That is a wonderful outcome I hadn't anticipated. The acceptance phone call is often as exciting for us as it is for the author.
EWR: When you started Glimmer Train did you have any idea it would become such a successful publication?
Susan: It is certainly not a financially successful publication, but in all the other ways that matter, it has surpassed our hopes.
EWR: As the editor(s) of Glimmer Train it is evident that you have a passion for fiction and writing. Can you speak to that passion? What do you feel drives your passion for writing?
Susan: Writing and reading can intensely deepen life. Expressing (writing) and witnessing (reading) both help us to more clearly understand what it is to be alive. Life is so quick. It's nice to sometimes take a good close look.
EWR: What do you see happening in the future of Glimmer Train?
Susan: We'll keep putting out issues! Other than that, we never know. That's part of the fun.
Visit Glimmer Train for more information about Linda and to read or submit to the outstanding publication.
Please note that this interview is republished here on Writing Sense. It was published originally on Every Writer's Resource.com. This is an effort to move our old content here to our main site.